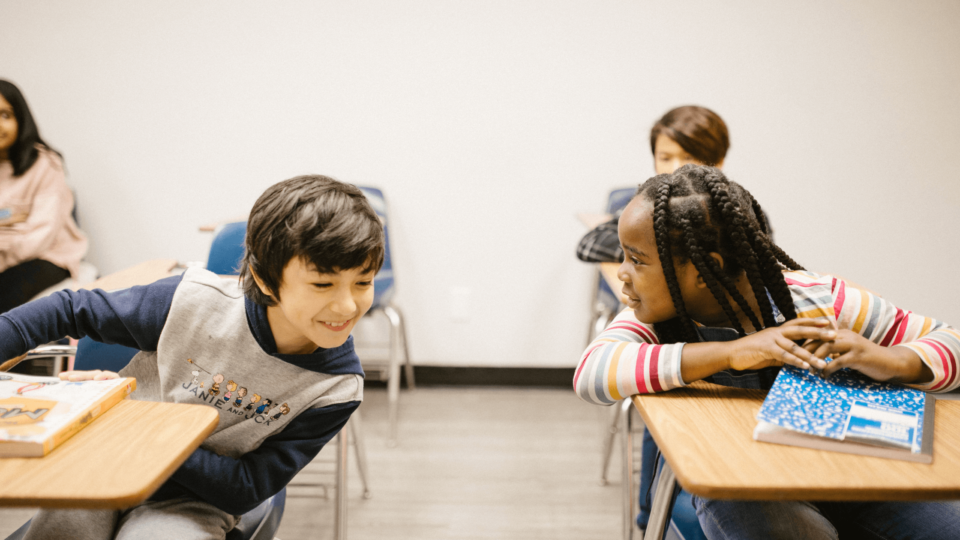 Hi again from Iris! Today our focus is teaching conversation skills to elementary students.

In this lesson, we share a free video and visual tools to make teaching conversation skills as easy and stress-free as possible!

First, let's start with a warm-up exercise:
One way to help elementary students warm up their conversation skills is to use pre-made dialogue from books or videos. Acting out character dialogue can help students explore a wide range of emotions. It also offers an easy way for students to rehearse conversation skills without having to generate novel language.

If you're looking for dialogue ideas, I suggest borrowing from Mo Willems' Gerald and Piggie series!
Gerald and Piggle are quite possibly my favorite fictional friends. You'll love their effortless back-and-forth, humor-filled conversations.

Feeling warmed up? Great! Let's get into the lesson:

Materials I Use to Teach Conversation Skills:
How I Teach Conversation Skills to Elementary Students:
The video Making Connected Comments (4 minutes) highlights some key skill steps (pictured below).

I tell learners that visualization is a strategy that helps some people bring to mind a relevant conversational tidbit or story.

I may model visualization by saying, "When I think about music, I picture the green lawn I sat on at a concert and the garlic fries I ate." Or, if the topic is music class, I might talk about my old clarinet or the enthusiastic faces of my middle school choir director and peers.

By using visualization, we can scan our minds for quality content to add to conversations when the time is right!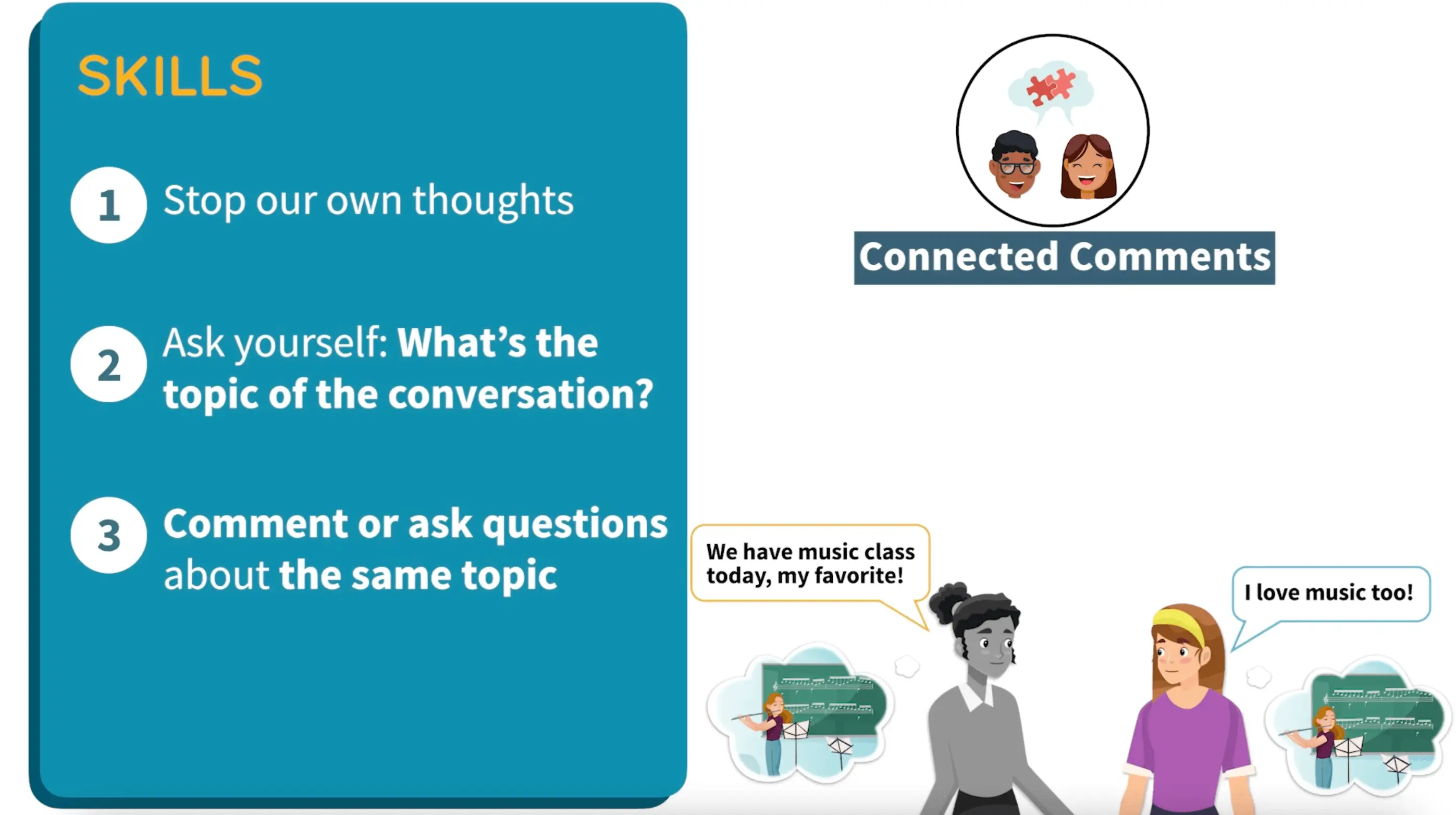 The video compares making on-topic, contingent comments to connecting puzzle pieces. Whether it's an entirely missing jigsaw puzzle piece or an ill-fitting piece, I'm sure you've felt that frustration when items don't connect. Conversations can be this way as well.

When conversation partners are connected, participants learn something new about an unfamiliar topic, relate to one another, and/or share an experience.

After you view and discuss the video, try some hands-on activities to reinforce concepts. Here are a few ideas to get you started:
Grab a jigsaw puzzle, Jenga, Don't Break the Ice, or a similar game for students to reference while practicing their conversation skills. How can they contribute to the conversation in a way that builds upon or connects to what the other person is doing or saying?

For those with weaker working memories or those who benefit from visuals, draw conversation topics on individual handheld whiteboards. Alternatively, draw topics on a large sticky note and place it on the center of the table or a wall.

Learners have told me that writing or drawing their thoughts helps them interrupt less because it alleviates the worry that they'll forget what they were going to say.

Younger learners may also enjoy using puppets to help visualize topics (e.g., puppets could be familiar book characters such as Gerald and Piggie or other preferred friends).
To wrap up the lesson, share the Making Connected Comments Goal Poster and Connected Comments Puzzle Pieces Visual Tool.

These are great resources to send home for students to continue practicing connecting comments with family and friends.
Key Takeaways:
Looking for more ideas? Everyday Speech's Social Communication Curriculum has you covered. With videos spanning preschool through high school, Everyday Speech material will equip you to individualize lessons to support your learners at every stage.

Happy conversing!
About the Author: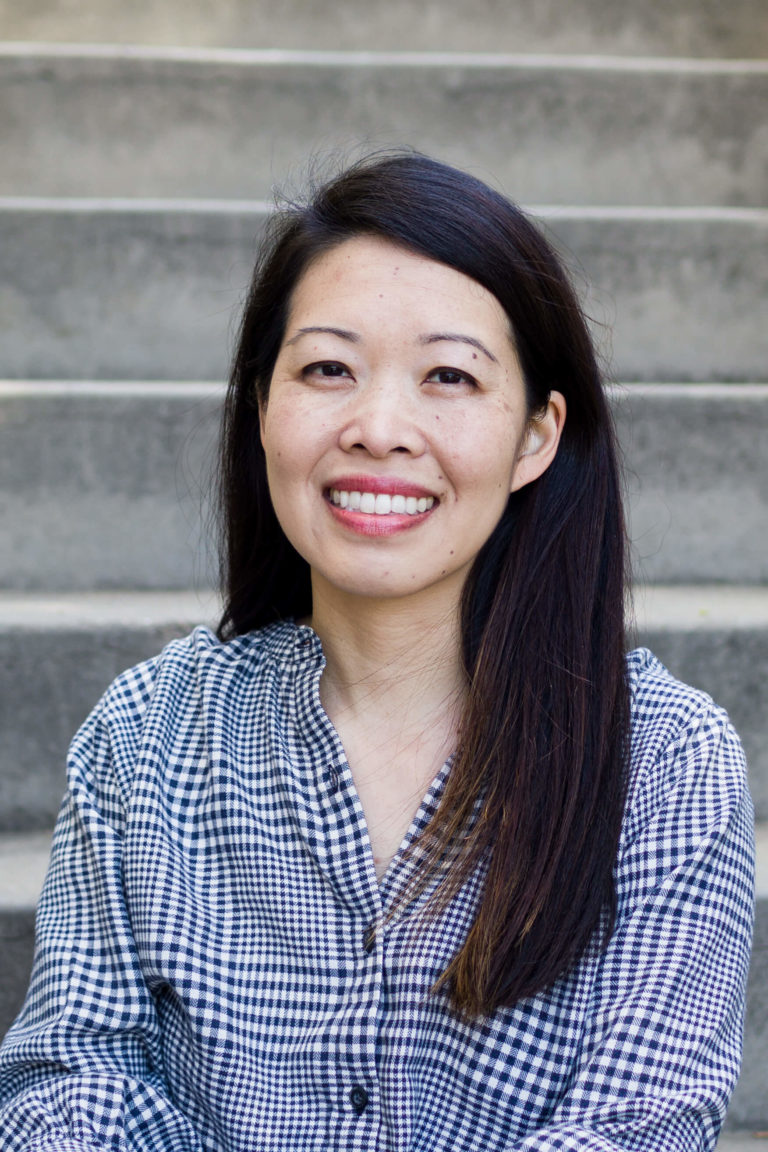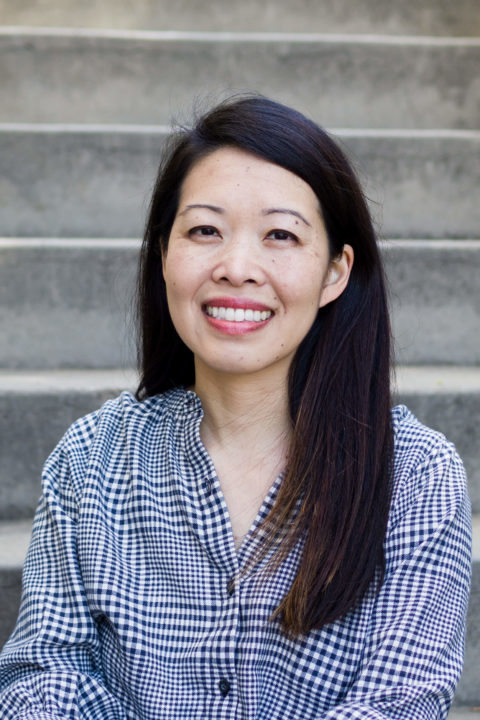 Iris Wong joined Everyday Speech as a contributor in 2021. Over the last decade, she has been a Speech Language Pathologist in PreK-12 public schools, private practice, international schools and community health based early intervention. She currently lives in the San Francisco Bay Area with her husband, two kids and senior dog. Visit her at https://www.linkedin.com/in/iris-l-wong/