Update Regarding Coronavirus / COVID-19
Update: We have updated the content of this post to include a link to our completed Webinar, see the recording HERE. We have also updated the dates to reflect our extension from July 1 to Sept 9.
Over the last few weeks, we have all seen the significant spread of COVID-19, otherwise known as Coronavirus. Due to the rapid spread across the globe, COVID-19 has left many schools and learning facilities scrambling to ensure continuity of education. The CDC has already provided guidance for schools and many districts are already closing or in preparation for possible closures.
—
Everyday Speech's Response
We are giving users the ability to share materials with parents, 100% free, through September 9th.
Parents will have access to the same Videos, Worksheets, and Games that you would normally use in school.
You can create lists for parents to use on their end and just send the links home for the parents to access.
To learn more on how to do this, visit this blog post.
---
We're providing a 50% discount to any school district that would like to get up and running with Everyday Speech through Labor Day.
To sign up, simply go to this page and sign up for an account.
Once you're signed up, you'll be emailed instructions on how to share materials with parents.
---
We hosted a free live webinar on how you can use Everyday Speech in a remote learning environment.
For those that joined, we went over:
Options for remote learning
A brief review of how to use the Social Learning Platform
Clinical advice for teaching during the shutdown or in a remote environment

If you weren't able to make it but registered for the webinar – we have the recording on our webinar follow-up post, view the recording here.
---
We're supporting districts that are looking to implement Everyday Speech as a digital learning solution through the shutdown.
---
If you think your school district or organization would be interested in using Everyday Speech during a closure or want us to help assist in the transition to remote learning using Everyday Speech, please complete this form to request support for your school district or organization.

---
We created 8 week remote learning syllabi for use in distance learning.
Our in-house clinicians have created a 2-month remote learning syllabus, hitting on key skills during that time. Of course, you can always use our Full Curriculum to specifically work on any IEP goals your students might have.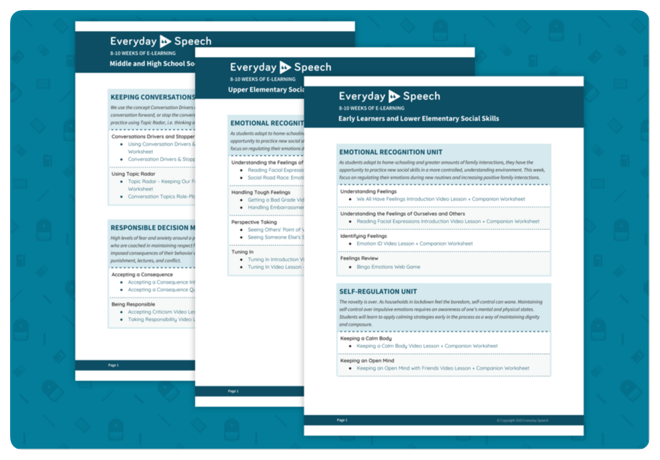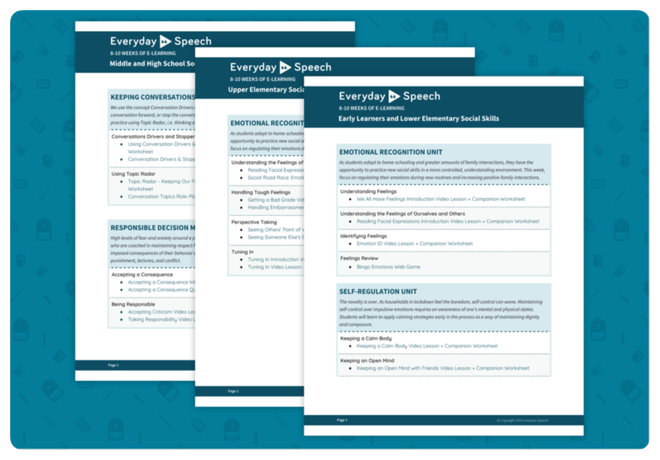 Download the syllabi here:
From everyone on the Everyday Speech team, please stay safe and healthy. We will pull through this together.
Comments