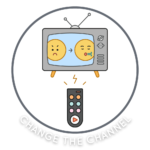 Check out this free lesson plan and activity to teach middle schoolers to handle embarrassment. Embarrassment is a common and often overwhelming emotion that middle school students experience regularly. As educators, it is our responsibility to equip our students with the necessary skills to handle embarrassment in a healthy and constructive way. By addressing this issue head-on and incorporating engaging teaching strategies like this free handling embarrassment role play activity, we can create a safe and supportive learning environment for students to learn and grow.
Lesson Plan
This lesson plan will utilize role play as a valuable tool to help students understand the nature of embarrassment, develop empathy, practice assertiveness, and build resilience. By implementing this plan, you will help to teach your middle schoolers how to handle embarassment with the confidence and strategies they need to navigate embarrassing situations effectively.
Materials:
Whiteboard
Markers
Index cards
Introduction and Discussion (Approximately 10 minutes)

Start by engaging the students in a brief discussion about embarrassing situations they may have encountered or witnessed.
Encourage students to share their experiences, thoughts, and emotions associated with embarrassment.
Emphasize that embarrassment is a common emotion experienced by everyone.

Understanding Embarrassment (Approximately 10 minutes)

Use the whiteboard to define and discuss the concept of embarrassment.
Highlight common physical, emotional, and social reactions to embarrassing situations.
Explain that embarrassment is a temporary feeling and can be managed with the right coping strategies.

Empathy Exercise (Approximately 10 minutes)

Divide the class into pairs and provide each pair with an index card.
Instruct students to write down a scenario that might embarrass them personally.
Have the pairs exchange index cards and role play each other's embarrassing scenarios.
Encourage students to reflect on their emotions and reactions during the role play.

Role Play Scenarios (Approximately 30 minutes)

Print off the free Handling Embarrassment Role-Play activity.
Assign roles to students or let them choose roles themselves.
Encourage students to act out the scenarios, paying attention to body language, tone of voice, and emotions.
After each role-play, facilitate a discussion by asking questions like: "How did it feel to be in that situation? How did you react? What could you have done differently?"

Coping Strategies and Reflection (Approximately 10 minutes)

Summarize key coping strategies for handling embarrassment, such as deep breathing and positive self-talk.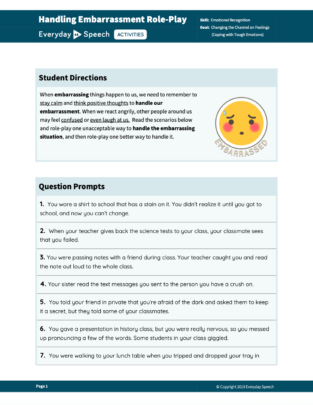 Sample Video
Students learn best from watching real students their own age model skills. Try out this sample video-modeling lesson below. We offer our entire Social-Emotional Learning platform free for 30 days here!
Related Blog Posts:
Empowering Middle School Students Through Positive Self-Talk
The Power of Belly Breathing: A Soothing Tool for School Counselors