The iPad's Accessibility Features 101: A Quick Start Guide for Special Ed
UPDATE: We've released an eBook – "The Ultimate Guide to the iPad for Speech Pathology and Special Education". It has all the tips and tricks you need to become an iPad master. Best of all, it's FREE. Grab your copy here.  
Working with the iPad every day, I sometimes take for granted all the little tips and tricks I've learned that make the iPad such a great learning device. If you're intimidated by the iPad or haven't had training on using it with people who have special needs – there's nothing to worry about. Learning a few key features will totally transform your experience.
Apple added many accessibility features when they released iOS6. These settings are built into the operating system but don't necessarily work with every app.  Read on to see how you can take advantage of these features to get the most out of your device!
Guide to Settings
When you click on settings, start out in the General settings on the left hand side. I'm going to talk about features in the order they appear on the settings menu.
You can change the text size on the iPad by clicking on Text Size. Once you click on that you see a message telling you it will work in apps that support Dynamic Type. This means it won't work in every app, only if the Dynamic Type feature was built into that app.
Accessibility is the category that has many relevant features for us. Apple separates the accessibility features into vision, hearing, learning, and physical & motor.
Vision
VoiceOver is a screen reader that will read all text out loud. This feature was built to use with individuals who are visually impaired. I don't love this feature for the populations I work with because it requires high cognitive demands to run it. Therefore my lower cognition students aren't able to operate it when using apps.
Zoom will enlarge the screen. Moving around the screen when using this can be hard because you must use 3 fingers to tap and move around.  This requires specific motor skills that may be challenging for some of my students.
Invert Colors is another feature for the visually impaired. It makes the colors on an app highly contrasted so people with low vision can see them better. Again this doesn't work in all apps.
Speak Selection makes a speak button appear when users select text. This may be a better option to read the screen out loud than VoiceOver because the entire app won't be read, only the selected areas.
Speak Auto-text will automatically read auto-corrections and auto-capitalizations out loud when a user is typing. I could see this being helpful for some students who have difficulty paying attention.
Hearing
Hearing accessibility features include Subtitles and Captioning, Mono Audio to be turned on or off, and a way to adjust the volume balance between left and right channels. I've never actually used these features with anyone but I can see them benefiting people who are hard of hearing. If you've had a chance to use these features, let us know!
Guided Access (Learning)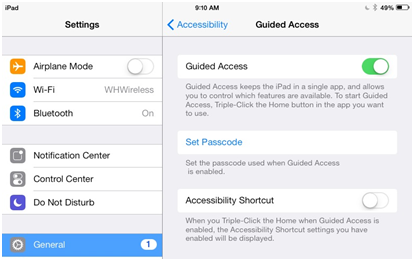 Learning features has the Holy Grail, need to know feature for anyone using an iPad with children. Guided Access will lock the user into an app so they can't easily swipe out or close the app. Tada! My students are too smart for their own good and know how to close out of apps or side swipe to open different apps to get out of doing their work. This is no longer a problem when using Guided Access! To set it up:
Turn it on in settings (toggle the switch on).
Set your passcode to unlock accessibility mode. I like to use the same password I use to lock my device.
You can set the "accessibility shortcut" on or off if you want. What this will do is allow you to quickly turn on and off different accessibility features. We're not going to get into that in this blog.
Now we're all set! We're going to use our app, Let's be Social, to demonstrate how this all works. To get started, open up the app you want to use. Note: You can't take screenshots in Guided Access, so we actually had to take pictures of the iPad!
Press the

home

button three times. The home button is the circular button at the bottom of your iPad.

Enter your passcode.

Now you're brought to the guided access settings. Along the bottom, you'll see you can shut off the different buttons on the actual iPad. You can also disable touching and motion events (some apps allow you to shake the iPad to perform certain actions). If you disabled everything, the user would be restricted to just one screen and wouldn't be able to leave.

Guided Access has another awesome feature. See how the buttons are grayed out in the upper left hand and right hand corners? I did that just by circling them on this screen! You literally just take your finger and draw around the section of the screen you want to be disabled. Apple has built this in a way so it's smart enough to recognize this is a button and disable it. In our case, we disabled the "Main Menu" and "Edit" buttons. If you wanted, you could disable entire sections of the screen.

Click "begin" in the upper right hand corner, and you're now in guided access!
So, let's take a look at how the app screen looks. In the screenshot below, you can see that the "Main Menu" and "Edit" buttons are disabled: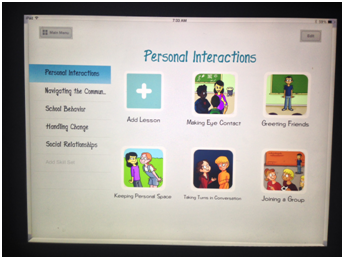 If we try to press the home button to get out of the app, we get this error that doesn't allow us to leave: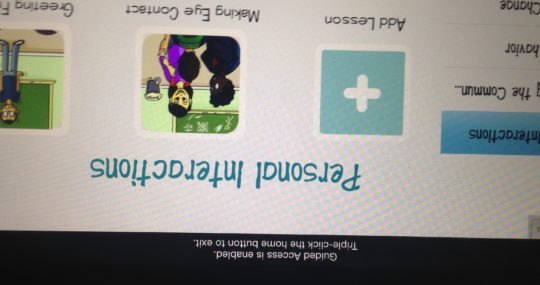 To stop guided access, hit the home button 3 times, enter your code, and press "end" in the upper left hand corner.If your students are like mine don't let them see you hitting home 3 times because you don't want them to learn the secret!
Once you use Guided Access you will see how fantastic and helpful it really is.
UPDATE: We created a short video walking through Guided Access. Take a look!
Physical & Motor
The Physical & Motor features include Switch Control, Assistive Touch, and Home-click Speed. These all allow users to control the iPad by switch use. In my opinion, the iPad is not a great tool to use with switches just yet. The main reason is that there are only a small amount of apps that will actually work with switches.
Switch Control gives the option to scan and read for people using a switch but it isn't very functional because it scans everything. It takes way too long to actually be able to use it and requires too many steps to get anywhere in an app. There are some great switch accessible apps and I recommend using those as opposed to the scanning features in the iPad.  Look out for coming posts on the best switch accessible apps and how to use them!
AssistiveTouch is for people who have fine motor difficulties and can't use the iPad by swiping or tapping with an isolated point (one finger). You can turn on AssistiveTouch to have a pop up appear to make standard controls like the home button easier to press. There is also a Custom Gesture feature that will create a custom gesture that will control the iPad. For example, if someone uses their fist to swipe it will save the motion and allow a fist swipe to work as if a single tap was used.
Home-click Speed changes the speed required to double or triple click the home button (when using guided access locking). Users have "slow" and "slowest" settings to choose from. You can actually see what the clicks look like when you click on them in the settings menu. This feature benefits people who have motor limitations by slowing the speed needed to hit the home button.
Multitasking Gestures
Once you click back to the General settings page, another helpful tool is Multitasking Gestures. This allows people to use 4 or 5 fingers to navigate the iPad. I could see this being useful for people who are physically limited. A tip for therapists and teachers: keep this toggle turned off because it allows kids  to swipe sideways to move between apps.
Helpful Tips for Anyone Using an iPad
Software updates always change things up. If a feature was working a certain way before an update but has changed after the update – you can guess that the culprit is likely the update. New features are always added so check out what's new with each software update.
Restrictions allow users to make changes to the operating system. Parents take note – you can restrict what your children are able to do on the iPad! You can choose which websites the internet will go to, if kids have the power to install or delete apps, and purchase apps. To use, go to General settings, and click on Restrictions. By turning the buttons off, you can disable the use of the internet, camera, Facetime, iTunes store, installing apps, deleting app, and in-app purchases. You can also control the rating of music, movies, TV, apps, and websites. For example, you could set them all to PG.
Hint – if you click on Websites under the heading Allowed Content and then click on Specific Websites Only, a pre-set list of kids websites such as discovery kids, Disney, PBS, and more come up. This is a quick way to ensure that your children only go to educational and kid friendly sites.
Require Password under Restrictions sets the time duration that your credit card in basically unlocked. For example, if this is set to 15 minutes the user isn't required to put in a password when buying anything for 15 minutes after the first time. If you are the only user and don't want to put in your password each time you buy something then set it to 15 minutes but I keep mine at "immediately" just to be secure.
You can select what you want the function of the side switch (on the side of the iPad on top of the volume control) to be. Under General in settings, find Use Side Switch to and you can choose either Lock Rotation or Mute. Lock Rotation stops the screen from switching to portrait or landscape orientations when you move the iPad. Mute just turns the sound off.

Hope these tips were helpful! If you have any more tricks in your technology toolbox let us know! Sign up for our mailing list here to stay updated with our latest therapy tips, app announcements, and blog posts.  Don't forget to follow us on Twitter, Pinterest, and like us on Facebook!