Webinar Follow Up: Remote Digital Learning During the COVID-19 Outbreak
Thanks to everyone who could join us during our webinar on March 18th, 2020. If you missed the webinar, you can view the recording below. You can also download the slides, which include helpful links to resources.
Helpful Links and Resources
—
Sharing Materials with Students and Parents at home
Download the PDF document below to learn how to create free accounts for the parents of the students you work with. If you feel students are ready to create their own accounts they can follow the same steps.
HOW TO: Share Materials for Remote Learning
---

A 2-Month Remote Learning Syllabus
Our in-house clinicians have created a 2-month remote learning syllabus, hitting on key skills during that time. Of course, you can always use our Full Curriculum to specifically work on any IEP goals your students might have.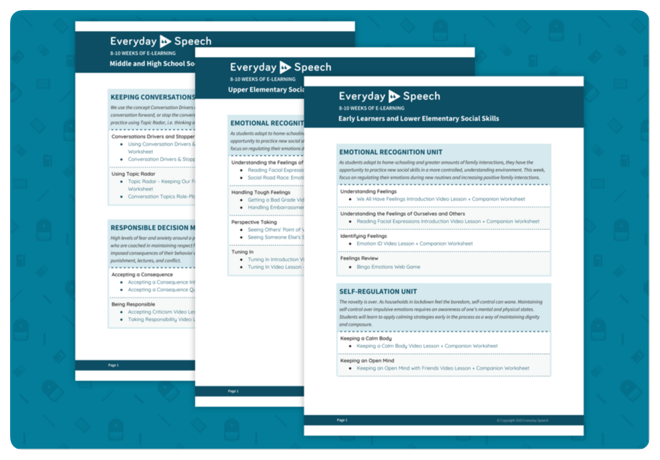 Download the syllabi here:
---

Resources We Recommend for Remote Learning
See this blog post with recommendations for using Everyday Speech in a Remote Learning Environment
See this blog post with a list of our favorite remote learning tools outside of Everyday Speech
---

Looking to implement Everyday Speech as a digital learning solution through the shutdown?
If you are looking to create your first account with Everyday Speech, we're providing a 50% discount to any school district or individual user that would like to get up and running through the end of this school year. Our goal is to lessen the financial burden on educators during this trying time.

To sign up, simply go to this page and sign up for an account. Once you're signed up, you'll be emailed instructions on how to share materials with parents and students at home.

Have questions about licenses?
If you think your school district or organization would be interested in using Everyday Speech during a closure or want us to help assist in the transition to remote learning using Everyday Speech, please complete this form to request support for your school district or organization.
From everyone on the Everyday Speech team, please stay safe and healthy. We will pull through this together.
Comments