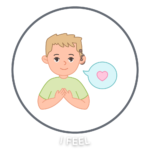 As early childhood and preschool educators, one of the most challenging aspects of the job is helping students navigate big feelings. Despite the challenge, one of the greatest gifts we can give our students is the beginning understanding and vocabulary to communicate how they are feeling, as well as making hypotheses about how others are feeling. That's why our Preschool Feelings Detective Activity is the perfect addition to your classroom's social-emotional learning time! Read on to learn our best tips for teaching this important skill to our youngest learners.
Helping Students Become Feelings Detectives
As educators, it's crucial to foster not only early academic skills but also emotional intelligence within our classrooms. Transforming your preschoolers into 'Feelings Detectives' equips them with the skills needed to decode not only others' feelings but also their own. In doing so, we can foster a more supportive and responsive learning environment for all.
Lesson Plan Overview: Feelings Detective
Introduction to Feelings
Begin the lesson by asking students to name some of the basic emotions they and others may experience on a daily basis. Support continued vocabulary by introducing any basic emotions that may have not been shared. Reiterate that everyone experiences these emotions and all of these feelings are okay to have.
Observing Others
Ask students to reflect on how and if they know when they're happy, sad, mad, or excited. What signs do they recognize when they experience these feelings? Then, ask students how they know what others are feeling. Support student understanding by explaining ideas such as body language, nonverbal communication, facial gestures, and social interactions. These are all clues that help us become feelings detectives.
Activity Distribution
Hand out the free Preschool Feelings Detective Activity from Everyday Speech to each student. Display the worksheet on a Smart Board or projector. Together as a group, explore the three images in the left side column and share the feeling words displayed on the right.
Encourage students to share what they notice about each of the images and how they might feel in that situation. Model for students how to draw a line to match the image to the feeling word. Have students attempt to do so, as well. Review the answers as a large group, sharing why each picture is matched to that feeling word. Help students recognize facial expressions portrayed in the eyes, eyebrows, and mouth.
Coping with Big Feelings
To conclude the lesson, ask students why it's important to practice becoming a feelings detective. Why is it important to notice others' feelings, as well as identify our own feelings? Share the ideas through words or pictures that can be displayed throughout the classroom as a visual reminder. To support continued conversation, you can explore coping strategies or behaviors for when students experience various feelings. Conclude with a recap of key learnings and takeaways.
Work together on coping strategies. Whether it's deep breathing, taking a short walk, or writing in a journal, collaborate with your students to find personalized methods that can help them manage their emotions.
Conclusion
By helping your preschoolers adopt the role of a 'Feelings Detective,' you're not just teaching – you're providing care that extends beyond the classroom, instilling emotional strength that students will carry into their lives. This social learning strategy isn't just about handling the now; it's about equipping our students with the emotional savvy for the future.
Sample Video
Students learn best from watching real students their own age model skills. Try out this sample video-modeling lesson below. We offer our entire Social-Emotional Learning platform free for 30 days here!
Related Blog Posts:
Free Preschool Sharing Material
How to Support SEL for Preschoolers
Nurturing Social-Emotional Growth: Preschool Social Skills Videos