Thanksgiving is a special time to foster gratitude and appreciation, particularly in young learners. 'The Thankful Tree' is a free preschool Thanksgiving craft designed to engage preschoolers in a meaningful way, helping them understand and express gratitude.
The Importance of Teaching Gratitude to Preschoolers
Gratitude goes beyond saying "thank you" – it's about recognizing all that we have to be thankful for. Teaching gratitude to preschoolers lays the foundation for emotional well-being, empathy, and a positive outlook on life.
The Thankful Tree: A Simple and Meaningful Craft
The Thankful Tree is a craft that combines creativity with the concept of thankfulness. It's an activity that requires minimal preparation yet delivers significant educational and emotional benefits.
Materials Needed:
Steps to Create The Thankful Tree:
Introducing Gratitude: Start the activity by discussing what it means to be thankful. Engage the children in a conversation about the things and people they are grateful for.
Coloring the Tree: Distribute the printables of The Thankful Tree and let the children color their trees.
Preparing the Leaves: While the children are coloring, cut out leaf shapes from colored paper or use the leaf templates included in the printable.
Expressing Thankfulness on Leaves: Assist the children in writing or drawing what they are thankful for on each leaf.
Assembling the Tree: Have the children attach their leaves to their trees, encouraging them to share their thoughts as they do so.
Classroom Sharing: Once the trees are complete, each child can present their tree and discuss their expressions of gratitude.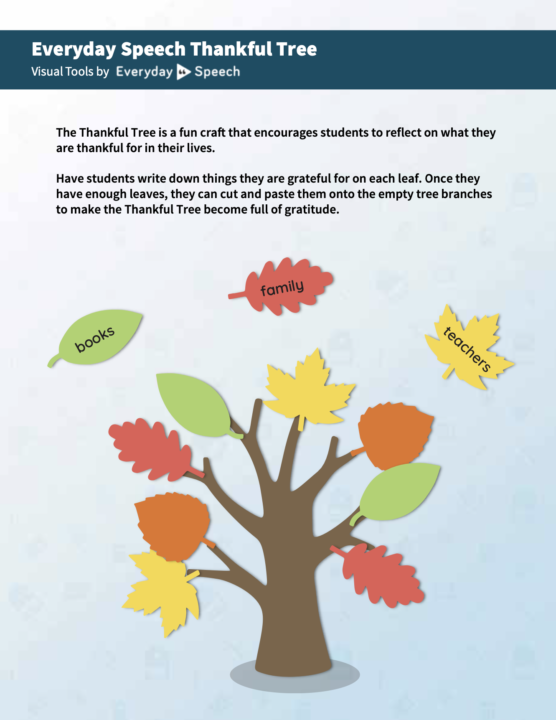 Educational Objectives
Language Development: This activity promotes vocabulary growth and expressive language.
Emotional Growth: Discussing gratitude aids in developing emotional awareness.
Social Interaction: Sharing their trees helps children practice speaking and active listening.
Tips for a Successful Craft Activity
Simplicity is Key: Adapt the activity to match the abilities of your preschoolers.
Participation: Ensure every child feels comfortable and is given the opportunity to share.
Classroom Display: Use the finished crafts to decorate the classroom, creating a visual representation of gratitude.
Conclusion
The Thankful Tree craft is a perfect way to celebrate Thanksgiving in a preschool setting, combining fun with meaningful learning. This free preschool Thanksgiving craft is not just a creative activity, but a platform for young children to explore and express their feelings of gratitude, fostering a positive and thankful mindset from an early age.
Sample Video
Students learn best from watching real students their own age model skills. Try out this sample video-modeling lesson below. We offer our entire Social-Emotional Learning platform free for 30 days here!
Related Blog Posts:
Playful Learning: Enhancing Social Skills in Preschool with Games
How to Teach Preschoolers to Handle Change
Free Resources: Social Skills Videos for Preschool-Age Children