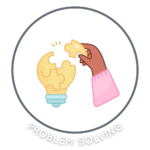 Why Focus on High School Social Problem Solving?
High school students need to develop resilience, empathy, assertiveness, and decision-making skills for productive social interactions. This High School Social Problem Solving Lesson Plan aims to facilitate that growth. It's a surefire way to empower your students, boosting their confidence and overall mental well-being. Download this free worksheet mentioned in the lesson plan below.
Breaking Down the High School Social Problem Solving Lesson Plan
Let's delve into the specifics of this lesson plan designed to develop social problem-solving skills in high school students. The beauty of this plan is that it requires no prep-time – you can dive right in!
Objective: To empower high school students with the essential strategies for solving social problems, making informed decisions, empathizing with others, and communicating assertively.
Materials: None – this is a discussion-based activity.
Duration: Roughly 1 hour
1. Identifying Social Problems (10-15 minutes)
Start with a discussion about the social problems high school students may encounter. This can be conducted in small groups or pairs.
2. Empathizing: Understanding Different Perspectives (10-15 minutes)
Choose a few scenarios from the previous discussion. Invite students to consider the various perspectives involved, promoting empathy and understanding.
3. Generating Solutions: Creative and Critical Thinking (10-15 minutes)
Now, guide students to brainstorm possible solutions for the chosen scenarios. Encourage them to consider the potential outcomes of each approach.
4. Decision Making: Evaluating Solutions (10-15 minutes)
Discuss the potential consequences of each solution. Teach students to weigh the pros and cons of each option, enabling them to make sound decisions.
5. Reflection: Learning Takeaways (5 minutes)
End with a reflection session. Invite students to share what they've learned and how they plan to apply these skills in real life.
Quick, No-Prep High School Social Problem Solving Activities
Role-Play Scenarios: Use role-playing to allow students to practice social problem-solving skills in real-time.
Daily Dilemmas: Start each session with a social problem or dilemma for students to solve, fostering practical learning.
Interactive Games: Incorporate games like 'what would you do if…' or 'social problem-solving charades' to make the learning process more engaging.
Everyday Speech Printable Problem-Solving Worksheet: Download the worksheet at the top of this post, discuss the five scenarios given, and have your students focus on coming up with multiple solutions, not just one for each problem.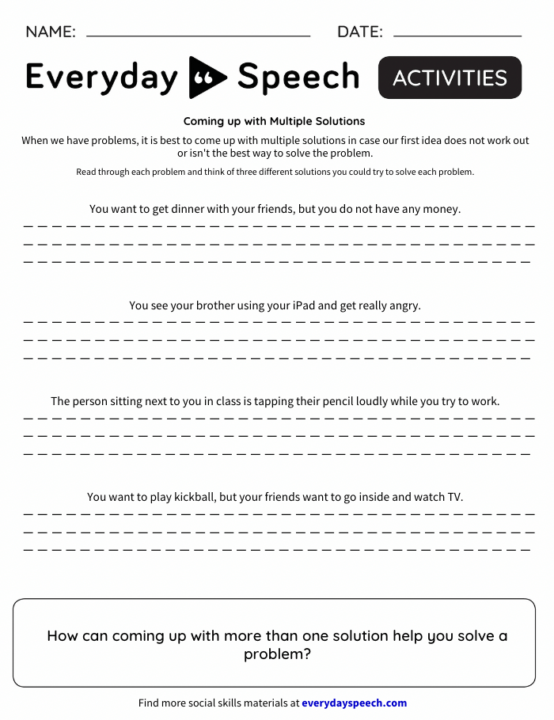 Sample Video
Students learn best from watching real students their own age model skills. Try out this sample video-modeling lesson below. We offer our entire Social-Emotional Learning platform free for 30 days here!
Related Blog Posts:
Free High School Problem Solving Material