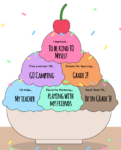 To have your elementary students reflect on their school year, celebrate all of their accomplishments, and prepare for the year ahead make sure to download this free elementary End of Year Reflection PDF.
Teaching End-of-Year Reflection to Elementary Students
The end of the school year marks a time of transition and growth for elementary students. It's an opportune moment for educators to help their students reflect on their achievements, challenges, and experiences throughout the year. Reflection not only allows students to acknowledge their growth but also helps them set goals for the future. With this End of Year Reflection PDF from Everyday Speech, students will develop the skill of self-reflection by identifying and assessing their achievements, challenges, and personal growth throughout the school year.
Lesson Plan – Using Your Free Elementary End-of-Year Reflection PDF
1. Celebrate Achievements
Begin the lesson by explaining the importance of reflecting on their school year. Emphasize that reflection allows students to celebrate their achievements, learn from their challenges, and set goals for future success. Then, ask students to think about their accomplishments throughout the school year. These can be academic, social, or personal achievements. Provide examples, such as improving in a subject, making new friends, or demonstrating kindness to others.
Using a whiteboard or chart paper, create a "Celebrations" list where you can write down students' accomplishments as they take turns sharing their achievements and reasons why they are proud of them. Encourage classmates to provide positive reinforcement and support for each other.
2. Reflect on the School Year
Guide students to reflect on their favorite memories throughout the school year and on challenges they may have faced. These may include making new friends, finishing a favorite book, or facing academic difficulties, social conflicts, or personal obstacles. Explain that memories are important to hold on to and challenges are opportunities for growth and learning.
Your free PDF worksheet is our "End-of-Year Reflection- Ice Cream Sundae Activity" PDF! Download, print, and hand this activity out to your students to reflect on their school year and write down their thoughts and reflections during the class discussions.
Instructions for how students should complete the activity:
On each ice cream scoop, answer the prompts by writing in your answers.
Color and decorate your ice cream scoops, bowl, and cherry.
Cut out and assemble your ice cream sundae with glue or tape –
don't forget the cherry on top!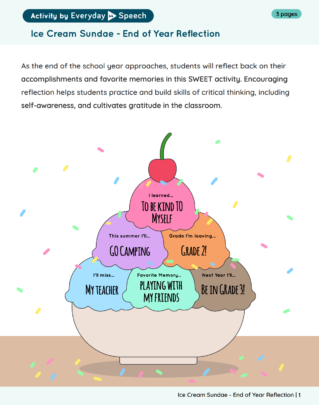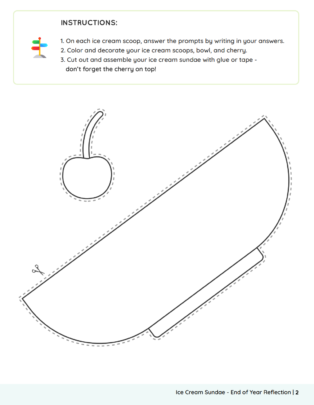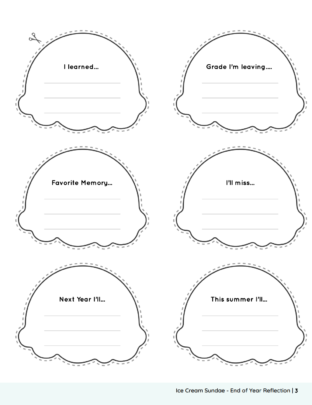 Free Trial!
If you didn't know, we offer a free 30-day trial where you can use our thousands of video lessons & Social-Emotional Learning materials like worksheets and web games!