Everyday Speech Skills
Everyday Speech Concepts
Everyday Speech Visual Tools
Use the tabs to see all of our
Skills, Concepts & Visual Tools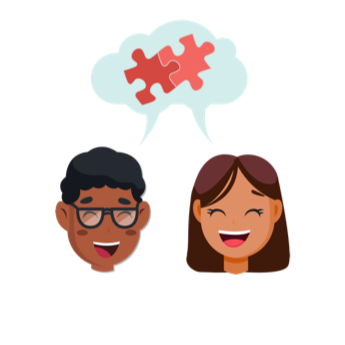 Making Connected Comments
Making Connected Comments teaches students to connect their comments to the previous comments of others in the conversation. This helps to stay on topic and drive the conversation forward.
We use the visual strategy of building a puzzle with another person. Each comment has a piece that fits with it, like puzzle pieces. If someone asks you about soccer, you respond by talking about soccer. The comment and response fit together like puzzle pieces. This is also a helpful tool to use while diagramming a conversation. You can draw out a conversation and make sure each comment has a connecting response.
Download concept image
(Right click and select "Open Link in New Tab")
Find materials featuring this concept here:
NOTE:
Some content may only be available to Everyday Speech subscribers.
Not a subscriber yet? View our free samples.