Introducing Everyday Speech's new Social-Emotional Learning Curriculum!
Social-Emotional Learning (SEL) is integral to educational and human development and ultimately contributes to safe & healthy individuals and communities. Here at Everyday Speech, it is our job to help you make a difference through easy, effective & fun SEL lessons for all students!
Our evidence-based SEL solution offers a full 20-week, grade-by-grade curriculum that is standards-based and CASEL-aligned. It includes ready-made lessons with a variety of videos, games, interactive activities, school-wide initiatives, and more!
About our SEL Curriculum
Our mission is to provide SEL for All, so with our SEL curriculum, you'll have the tools and materials necessary to support each and every one of your students regardless of their differing needs or the type of instruction they require.
Our SEL Curriculum is designed for whole-class instruction, encompassing all students from Tiers 1-3, and is facilitated by a diverse range of professionals, including General Ed Teachers, Social Workers, Counselors, Psychologists, and SEL Coordinators. In contrast, our Social Communication Curriculum (SCC) is tailored for small-group intervention and specially designed instruction for Tier 2/3 students. It is primarily delivered by specialists, like Special Educators or Speech-Language Pathologists, to support students who require direct social skills intervention, including those with IEPs.
To learn more about our two different curricula and to choose the one that is best for you and your learners, check out Which Everyday Speech Curriculum is Best For Me?
Your No-Prep Lesson Materials
Today, we're going to walk through one of our lessons for 10th Grade, Handling Academic Stress.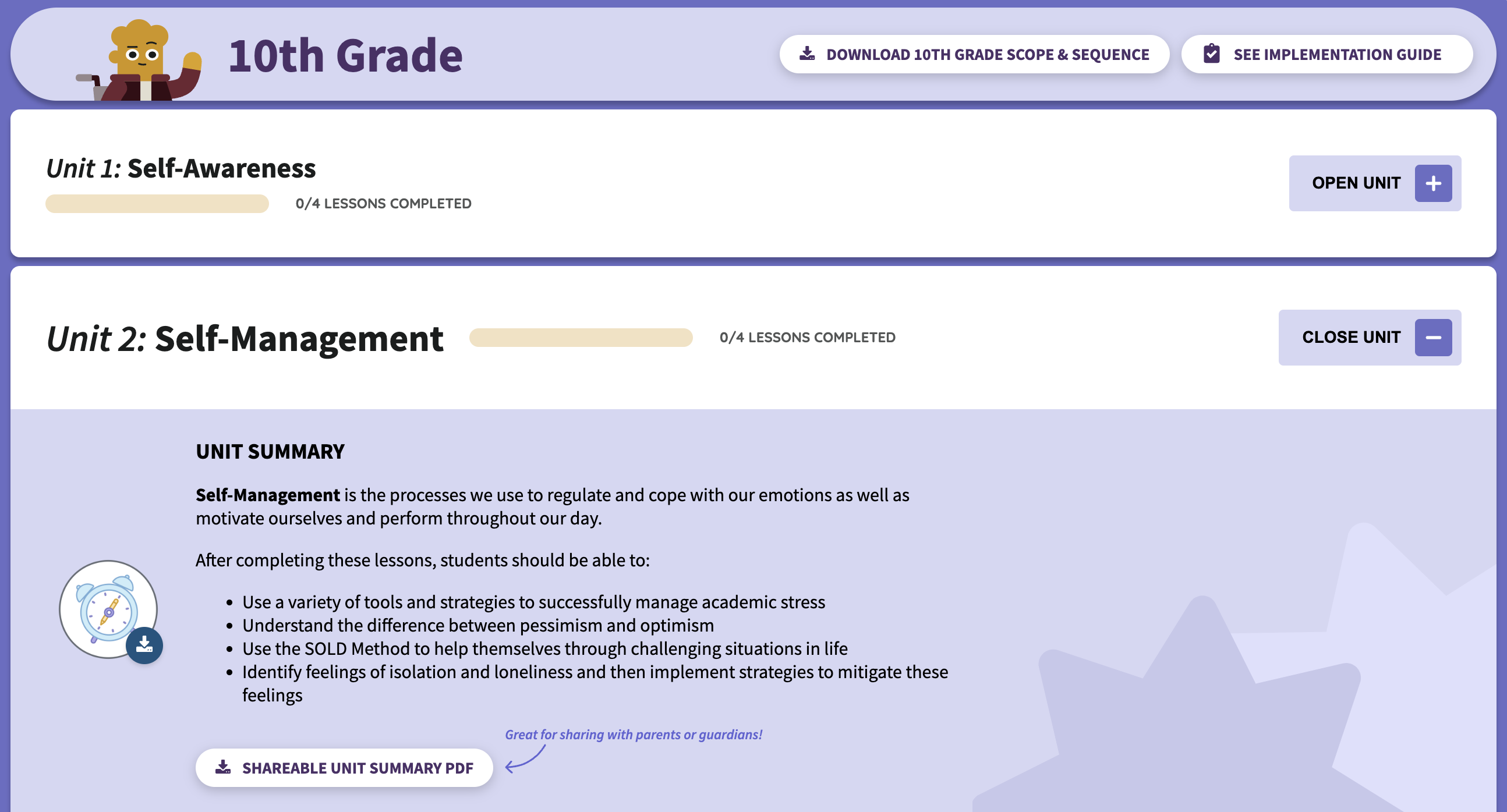 Every lesson comes with the following (click the link to jump to the section):
---
Fill out the form below to get all the materials you need to teach this lesson, plus our scope and sequence sent to your email.
---
Teaching Tools
We wanted to make our lessons as easy as possible for you to dive in, so every lesson starts with teaching tools. Our tools include all of the information and resources you'll need to teach SEL successfully, including a fully downloadable PDF lesson plan.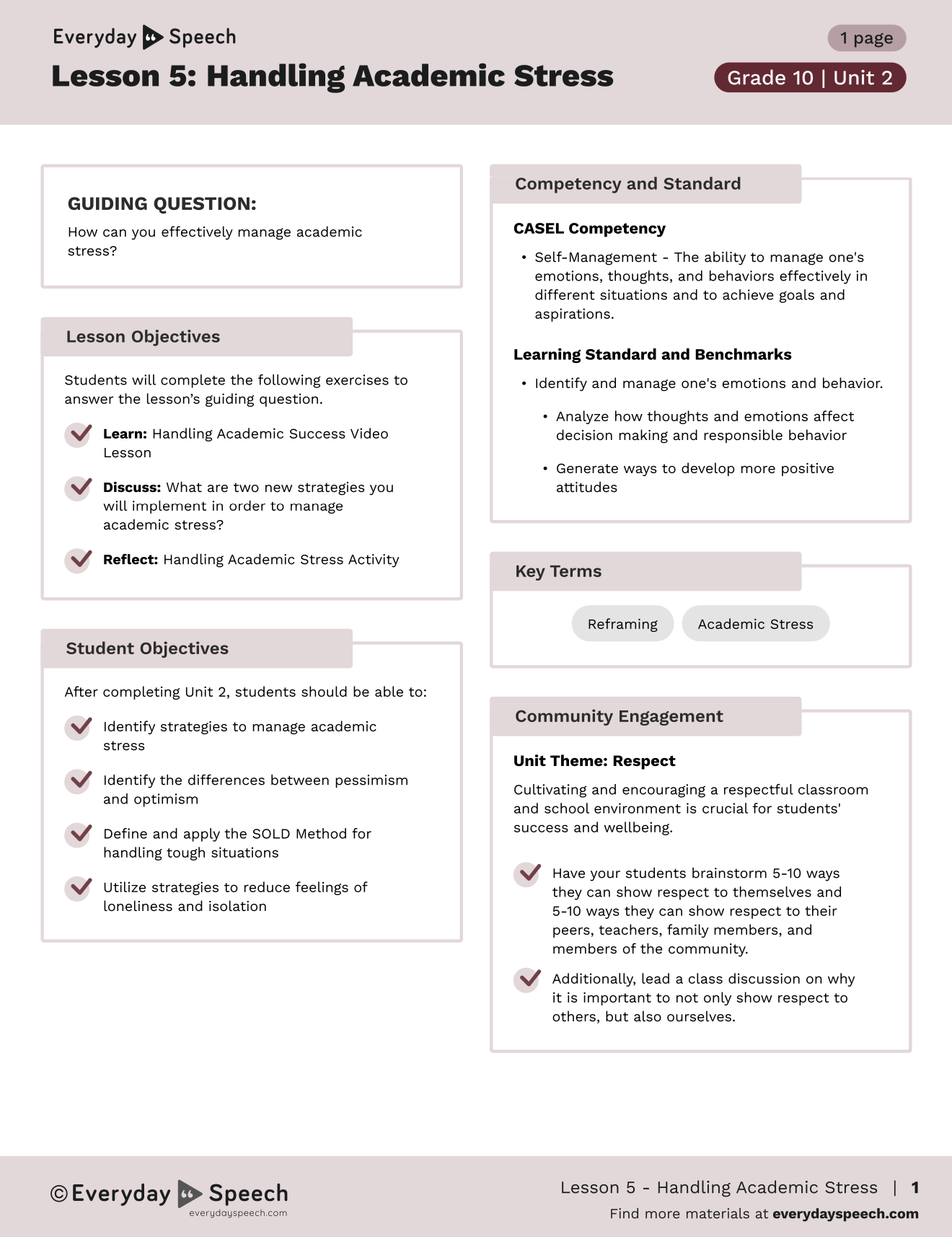 Main Lesson Materials
Onto the star of the show, our lesson materials. We break down EACH 30-minute lesson into three short sections: Learn, Discuss, and Reflect. All three sections can be taught during one 30-minute teaching session or broken up and visited throughout the week.
Learn
Begin your teaching with a short video lesson. Our secondary lessons offer a dynamic introduction to key concepts through a format reminiscent of a Ted Talk. Presented in a concise and captivating manner, these videos are specifically crafted to engage high school students, ensuring that the content is both digestible and relevant to their age group. The "Learn" portion effectively sets the foundation for students to grasp and internalize essential social-emotional learning concepts by leveraging visuals, relatable examples, and expert insights.
Discuss
Following the Learn segment is Discuss. This integral part of the lesson utilizes discussion prompts tailored to delve deeper into the various topics. By fostering a space for open dialogue, students can reflect on, share, and exchange perspectives about their understanding and experiences related to the content. This not only reinforces the concepts from the "Learn" video but also encourages critical thinking, peer interaction, and the development of communication skills, making the learning process more interactive and enriching for the students.
Reflect
The Reflect segment of Everyday Speech's SEL lesson adds a layer of active engagement to the learning journey. Students are encouraged to internalize and apply the SEL concepts they've discussed through interactive activities, which can be facilitated in larger group settings or tackled individually. This hands-on approach solidifies their understanding and allows them to relate the concepts to their own lives and experiences. This stage ensures that students move from theoretical comprehension to practical application, reinforcing the day's lessons in impactful ways.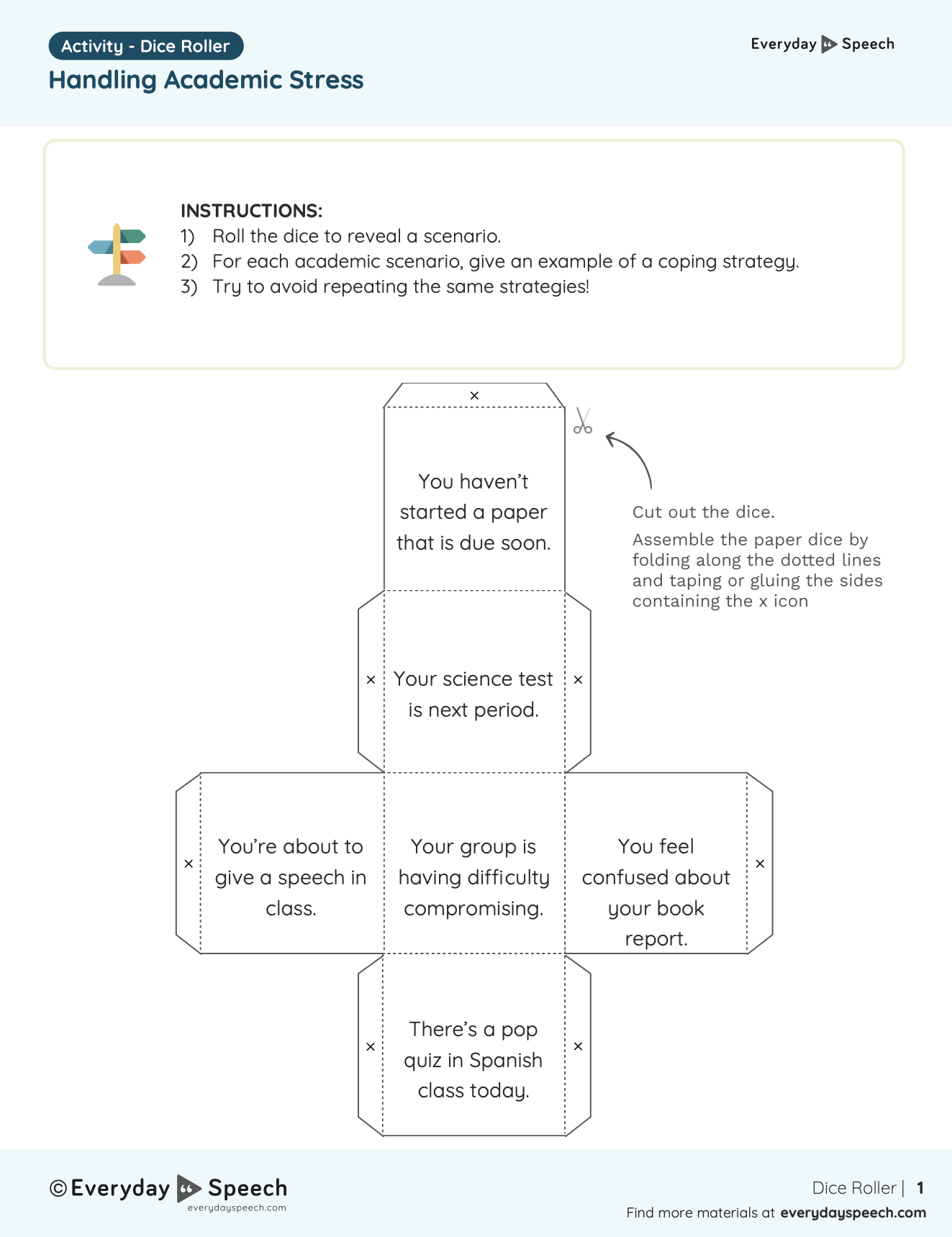 Unit Summaries and Pre-and Post-Assessments
We've included some helpful PDFs to make sharing with families and across your school even easier!
As you can see, our new SEL curriculum makes it easy for educators with truly no-prep lessons and provides students with the highest quality materials to create fun and engaging experiences.
To get our scope and sequence and all the materials for this lesson sent to your email, fill out this form.
If you're interested in seeing more samples, check out our samples page.
If you're interested in getting started with our full curriculum, head here.