Social Learning Platform Getting Started Guide
Quick Links:
[toc]
Hi there! Welcome to the Everyday Speech family! We couldn't be more excited to have you.
Today, we're going to walk you through all the basics you need to get started using the most powerful tool available for Social-Emotional Learning – our Social Learning Platform.
Just as a reminder, the Social Learning Platform (SLP) is your gateway to all of the therapy materials we have to offer. We've got hundreds of video modeling lessons, worksheets, and online web games, plus a full curriculum, training videos, and visual tools.
Important Notes
This guide assumes you've already started your subscription to the Social Learning Platform. If you haven't, head here to sign up.
If you're a new customer, you should have received a separate email with a link to set your password. If you didn't receive it, please check your SPAM folder.
If you're an existing user – even just for free samples, you most likely already have an account, so you wouldn't have received an account set up email. Head here to reset your password and log in.
If you didn't receive an email, don't hesitate to contact us.
This guide will mainly focus on the web version of our platform, but you can also use the platform on an iPad by downloading this app. The experiences are very similar, but we'll note any differences between the two.
This guide also shows all the features available in the Social Learning Platform. Depending on your subscription level, you may not have access to everything. In the case where features are only available for certain subscription levels, we'll point it out.
We know you're busy, so we've marked the most important sections with ** before the title if you want to quickly jump to those. We highly recommend digging into everything to become an Everyday Speech master!
Let's get started!
**Our Materials
As you're most likely aware, the 3 types of teaching materials we have are Videos, Games, and Activities.
What we're best known for, our video modeling lessons range in length from about 3 minutes, all the way up to 15+ minutes, but the vast majority are between 3-7 minutes. Video Modeling is an evidence-based practice in the field, and is a core tenant of our materials. As you work through our curriculum, you'll notice that our videos increase in complexity as you work through our lesson bundles. Our Introduction videos introduce the skill and show a straightforward model of the skill being performed. At the next level, we add in contrasting behaviors – showing how different actions taken affect the thoughts of those around you. Finally, we compile different clips to create videos where learners have to infer what's going to happen.
Every video comes with a companion worksheet that provides a jumping off point for further discussion and/or review.
Our hundreds of printable activities are extremely versatile – they range in complexity and length, whether you need an activity for an entire session or just the last 5 minutes. You'll notice different types of activities within the platform:
One Page Worksheets:

These are student-led worksheets that they can potentially fill out on their own. 

Quick Activities

: These model activities you can run during your session, including role-plays and group discussions.

Premium Packets

: If you're used to browsing the web for printable activities, these packets will be familiar to you. Able to support an entire session (or multiple sessions!), these packets introduce skills, provide activities like card games and board games, and include homework and review materials.
One more thing – if you don't have access to our printer, many of our activities can be used digitally as a jumping off point for discussions, by simply talking through answers instead of writing them down.
Finally, our web games provide a fun way to reinforce skills. Our games can be played single player or as an entire class, competitively or cooperatively. Many of our games try to encourage real life social interaction through role-plays, questions to ask peers, and group problem solving. We always hear how much students love our games, so definitely give them a try!
Note: Activities and Games are available to Complete Guided Therapy subscribers only.
Material Tags
In the interest of making our materials as easy to find as possible, we've tagged each piece of material based on what type of learner it's best for. Our tags include:
Skill & Goal: What skill does this material target? In our system,

Goals

are children of skills, so each skill is made up of multiple goals which break down the skill even further.

Age: What age is this material targeted at?

Level: How complex/difficult is this material? Learn how Brittany, our founding SLP,

determines the level of a learner

.
Important Note: Every learner is so different that they may not neatly fit into the segments we've created. We suggest trying different levels of materials until you find a level that's a good match.
Logging In
Upon signup, you should have received an email with a link to set your password. If you didn't receive it, please check your SPAM folder. If the email is in there, please make sure to add [email protected] to your address book so you don't miss any important communication.
If it isn't in there, contact support and we'll get you up and running right away.
Once you set your password, you'll be directed to slp.everydayspeech.com, our secure URL for the Social Learning Platform. We suggest you bookmark this link so you always have it handy.
If you ever forget this link, you can also log in by going to everydayspeech.com and clicking "log in" in the upper right hand corner.
Important Note: We also have an iPad app you can use to access the same lessons on the go. You can use the same email and password you use on the web to log in there, but please set your password on the web first before logging in on the iPad.
Forgot Password
If you get logged out and forget your password, you can always click the Forgot Password? Link on the login page to get a reset link sent to your email.
Viewing Materials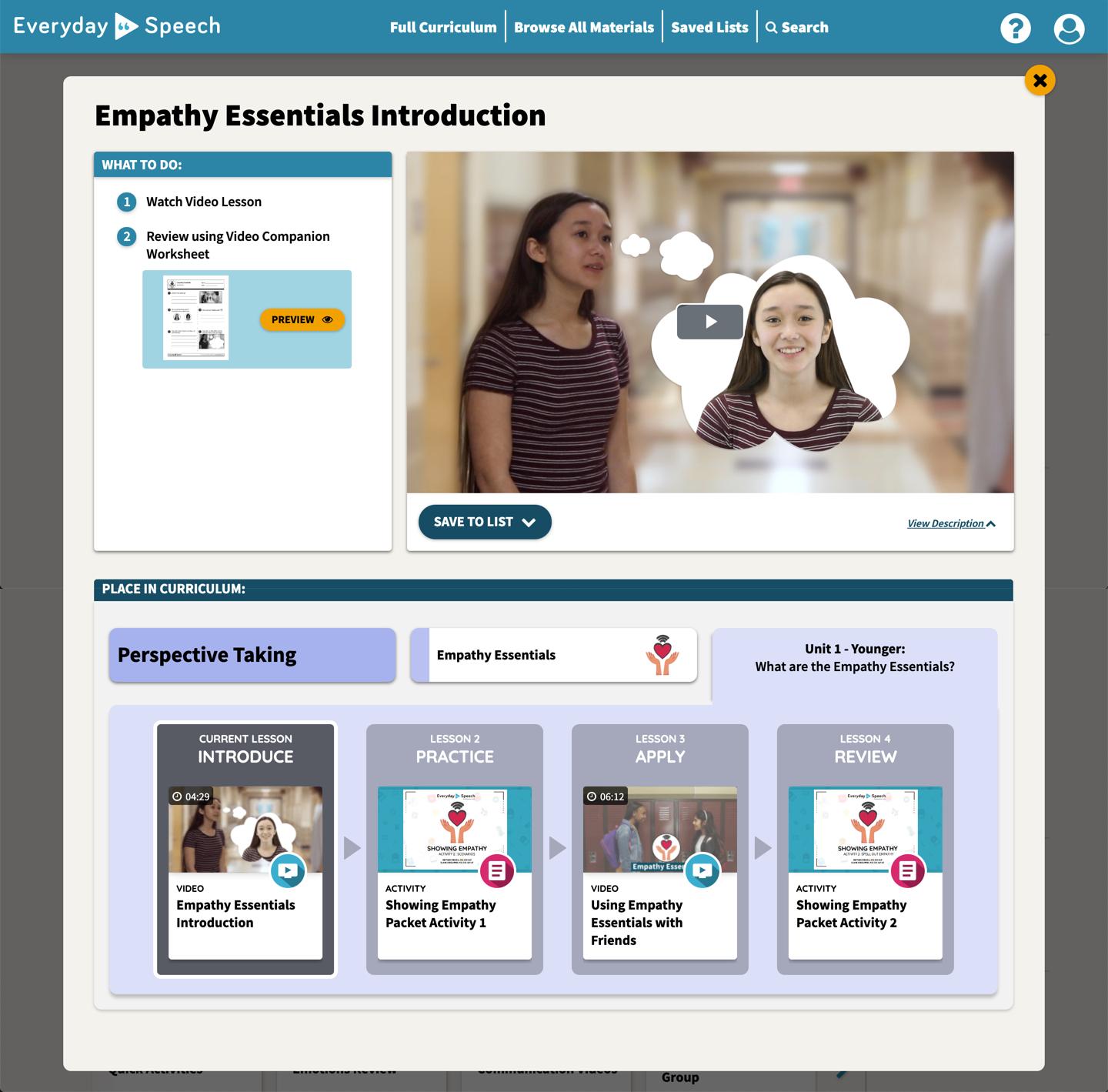 After you click on a video, game, or worksheet, you're brought to a page with the material and all of the supporting materials needed to start your lesson. Let's break this page down.
On the right, you'll see the material – simply click on it to start the video, view the activity, or play the game.
On the left side, you'll notice our What To Do section. In an effort to make our materials truly no-prep, we've listed everything you need right here. For our videos, you can download or view the companion worksheets here. Many of our printables come with short review videos you can watch if you want to remind your learners of the concept you're working on.
Underneath the material there's a button to save the material to a list if you want to save it as a fast way to find later on, as well as a way to view a short description of the material.
Underneath the material you'll also see that material's Place in Curriculum. If the material is part of a lesson unit, you'll see the other materials in the unit. Feel free to click on the goal that the material is a part of to learn more about it, download visual tools for the goal, view training videos on that goal and see all of the goal's units, 
To learn more about our curriculum, please visit the Full Curriculum section of this guide.
Offline Materials
If you travel to areas with poor or nonexistent WiFi, you can use our iPad app to download videos to watch without an internet connection. To download a video, navigate to the video you want, and press the Download to View Offline button. To find all of your offline videos, click on the Offline Videos button in the bottom Navigation bar.
To remove a download, press Remove Download button that appears in the same place as the Download Video button for videos that have already been downloaded.
Note: Downloading videos offline is for iPad only.
Basic Navigation
When you first log in, you'll see our Welcome Video, and some of our most popular content to get started right away. As you start to view more materials inside the app, you'll notice a custom dashboard just for you which will show you recent materials and goals you've viewed.
Along the top (bottom for iPad) is our navigation bar  – the main way to navigate through the different sections of the platform.

Click on a section below for a more in-depth walkthrough:
Dashboard – view your lists, recently viewed materials, and recently viewed goals in one spot.

Full Curriculum – access our curriculum, organized by goal, and access our training videos and visuals.

Browse All Materials – view all of our materials in one spot – sort and filter to find whatever you're looking for in seconds.

Saved Lists – all of the lists you've created.

Lists are folders of materials you've grouped together to keep your favorites organized and easy to find.

Search – search by keyword to find exactly what you need.

Help Center – get all your questions answered.

Account – change your email & password and manage billing here.
On the iPad, the navigation bar is on the bottom of the screen, but the overall navigation is extremely similar.
Your Dashboard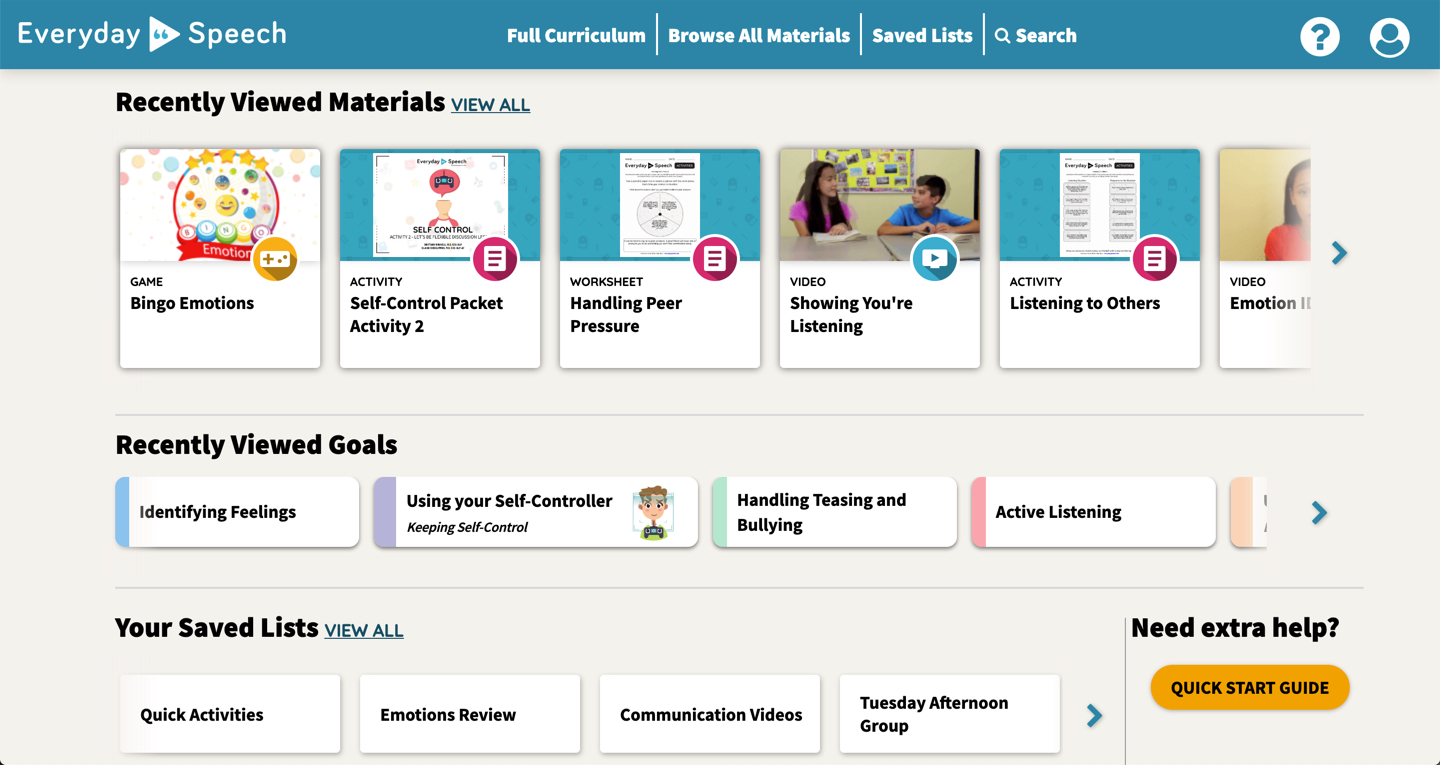 As you view more materials inside the app, the dashboard will change to a custom view. This will be based on the materials you have been using, so it will look a bit different for everyone.
Recently Viewed Materials
At the top, you'll see your most recently viewed materials. This allows you to jump right back in to a piece of material you recently opened. If you need a longer listing of materials you've looked at, click on the "View All" link next to Recently Viewed Materials to see a longer listing of your viewing history.
Recently Viewed Goals
All of the materials in our library are tagged with a Goal that they work on. You'll learn about these goals more in our Full Curriculum section, but here you'll be able to jump right back into any goals related to the content you've recently seen.
Your Saved Lists
A quick way to get to your saved lists, we show your most recently created lists here. To see all of your saved lists, click on the "View All" link or click on "Saved Lists" in the navigation bar.
**Full Curriculum
New to our updated version of the platform, the Full Curriculum walks you through all of our materials from beginning to end. Navigate the Curriculum by viewing our complete listing of our skills and goals, and click on a goal to access the Lesson Units within.
Skills and Goals Listing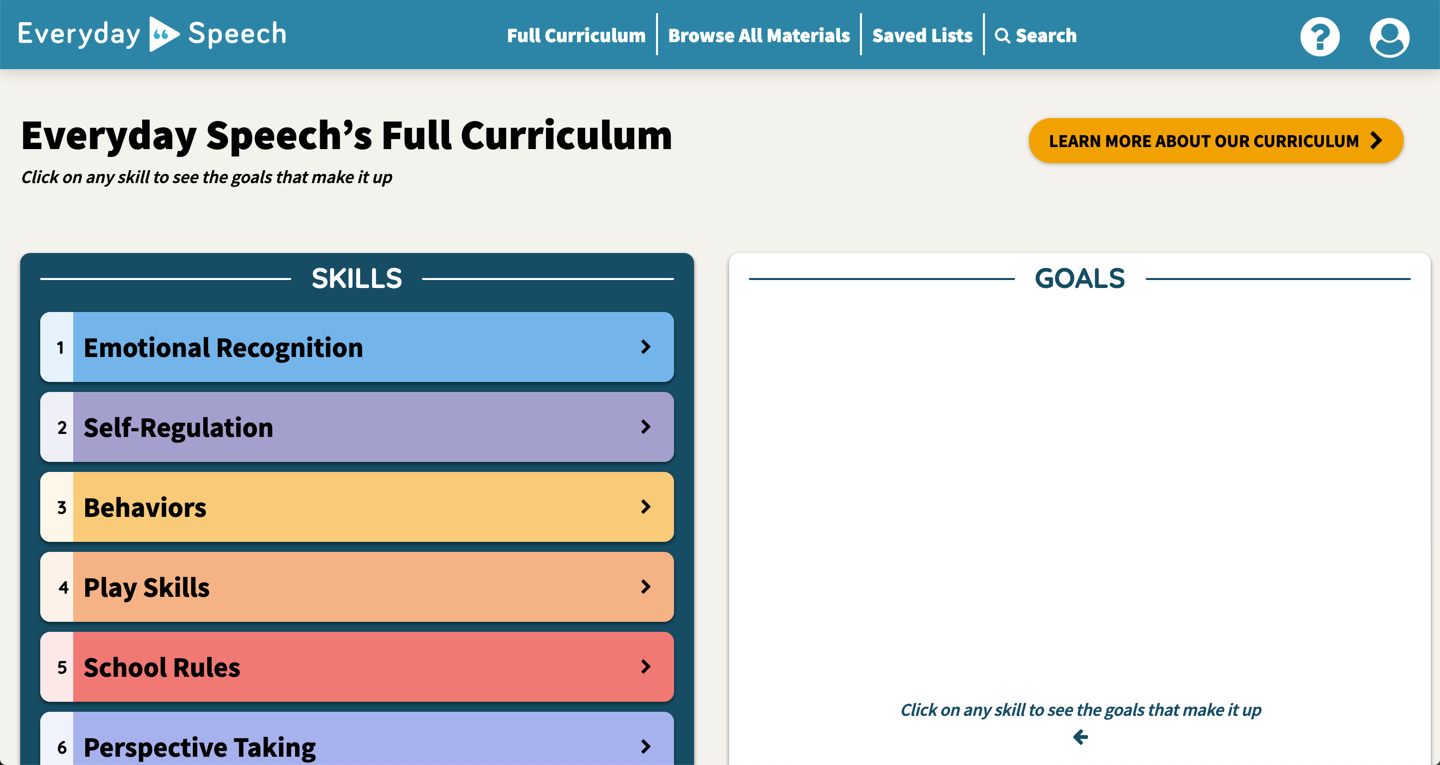 Our curriculum is divided into Skills and Goals. 
Skills are overarching areas to work on, like Basic Conversations, Problem Solving, and Friendship. Each skill is made up of multiple goals. For example, Conversation Topics includes the goals of Making Connected Comments and Think it or Say It, among others.
When you navigate to our skills listing, you'll notice that skills are in a numbered order. This is our suggested developmental order for a learner that is starting from the absolute beginning. It's likely that you'll have learners who have very specific needs – it's entirely okay to start somewhere in the middle, or jump around in an order that makes sense for you.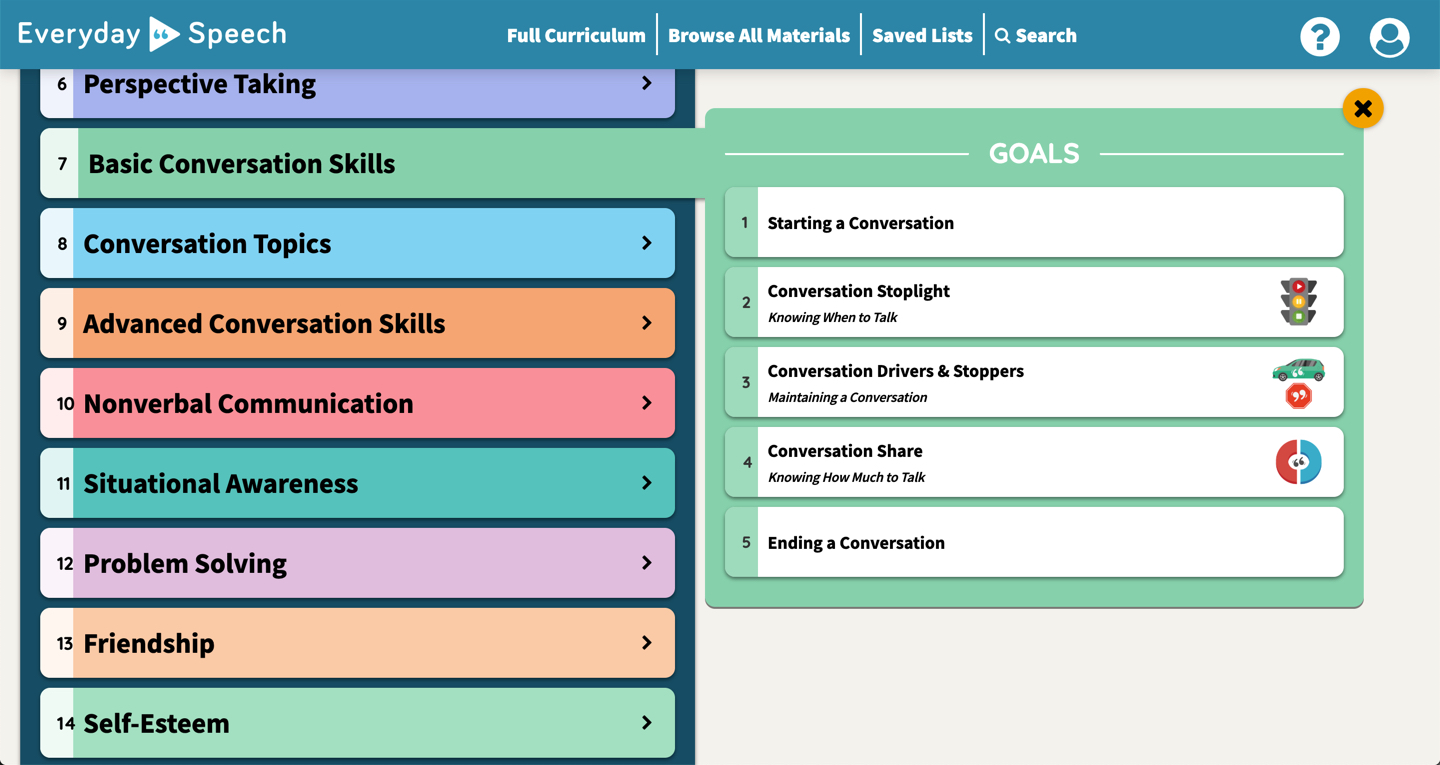 Once you choose a skill that you'd like to work on, goals will appear on the right hand side. Again, this is in a suggested order, but you can feel free to jump to the best starting point for your learner.
You'll notice some goals have icons next to them – this means they are an Everyday Speech concept – a specific way of teaching the skill developed by our clinical team.
Once you select a goal, you'll be taken to the goal page.
Goal Pages
Packed with a ton of great information, our Goal pages are the powerhouse of our curriculum. They contain:
Goal Summaries

– great for matching with IEP goals. 

Britt's Tips

– quick training videos

Visual Supports

-downloadable icons and posters

Pre-made Lesson Units

– Lesson bundles for

Complete Guided Therapy

subscribers only
Please Note: Not every goal has Britt's tips and visual tools right now. We're constantly adding these, so check back throughout the school year to see if we've added them. If there's a particular goal you'd really like to see a Britt's tip for, definitely let us know!
Goal Summaries
If you're looking to align our content with your IEP goals, or you're just not sure what a particular goal is working on, these goal summaries provide a quick synopsis of the target goal.
**Britt's Tips
Britt's Tips are our training videos designed to connect you straight to our Founding SLP, Brittany Brunell. Brittany's created all of the content in our platform, and has tons of ideas on how to use the materials with your learners. In these 3 minute videos, she introduces a skill and gives you some practical advice for getting started on a goal.
These videos are packed with tips and tricks, so we highly recommend you check them out!
**Visual Supports
From printable icons to goal posters to hang up in your speech room or class, the visual supports section of each goal page has all of the printables that help reinforce learning. Click on the visual supports button to view and download them all! We recommend sharing across educators and parents so everyone knows what your learner is working on!
**Pre-Made Lesson Units
On our goal pages, you'll find the lesson units that bundle and organize our materials for you.(Complete Guided Therapy subscribers only). Designed to take the questions and effort out of lesson planning, the lesson units suggest an order for teaching a goal, and present our best materials for that goal.
Each lesson follows the same structure to ensure your learners are mastering each goal. They follow the sequence of:
Introduce

Practice

Apply

Review
Every lesson is designed to take up an entire session. That said, if you have shorter or longer session times, or your student is moving at a different pace, don't feel you have to stick to the 1 lesson per session rule. Every learner is different! We highly recommend reviewing video lessons multiple times to make sure your learners retain the skills taught.
To learn more about how curriculum, please visit our clinical information page.
Lesson units are broken down into different age groups – Pre-K – Elementary and Middle – High School. Learners on the fringes of these age groups may be able to use either one. Generally our Middle – High School units have videos with older actors, and more complex worksheets and activities.
We're adding new units all the time, so if you don't see a unit for a goal you want to work on, check back later and we may have added it! 
If there are no lesson units for a particular goal, we provide a list of all of the materials that work on that specific goal on the bottom of the page.
Browse All Materials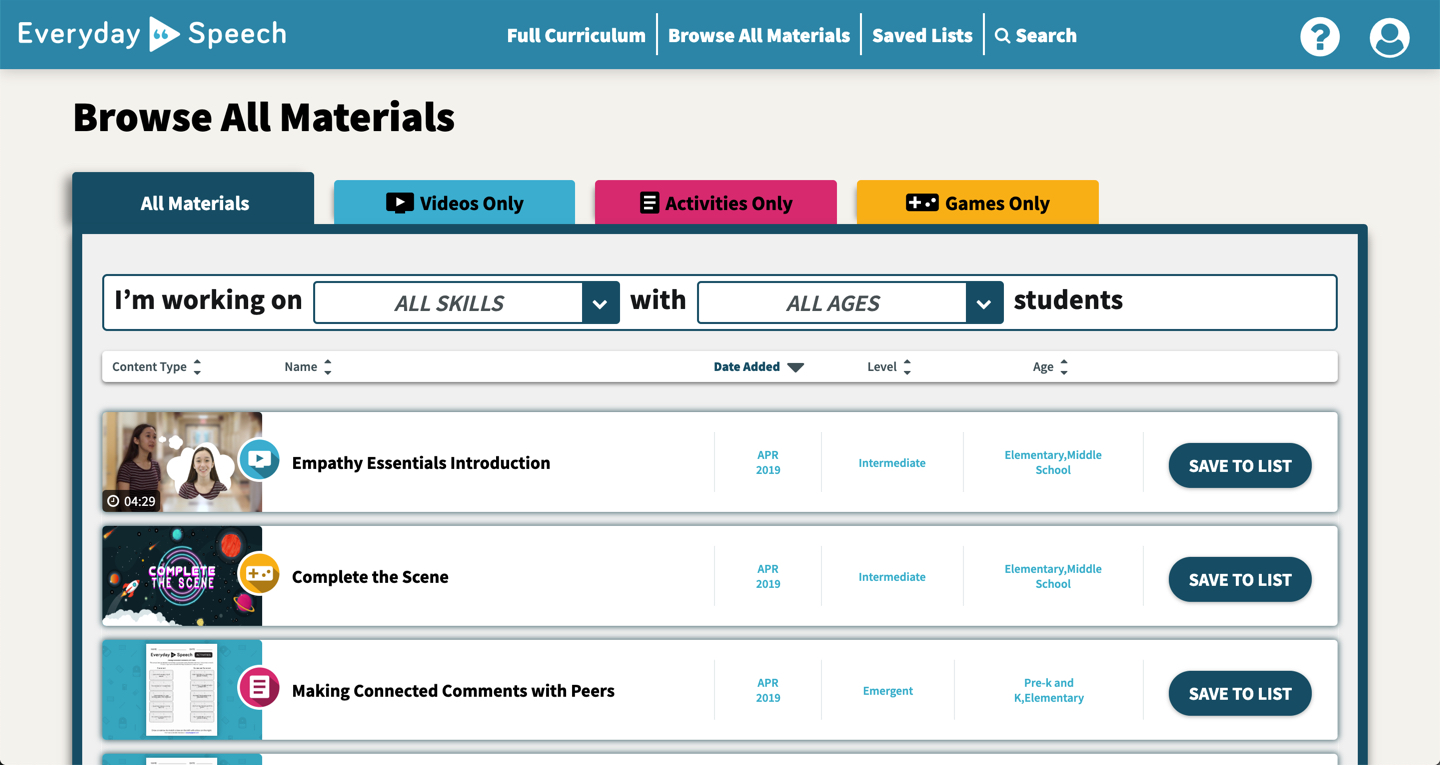 If you'd like to check out our newest materials, or just browse our huge library, you can head over to the Browse All Materials section. This page has all of our content, ordered by most recently added.
Using the tabs and filters, you can find exactly what you're looking for in seconds. There are 3 ways to filter the content you're looking at:
By Skill

By Age

By Type of Materials
To filter by Skill and Age, use the dropdowns that appear over the list of materials. 
To filter by content type, select a tab on top. You can view all materials, or see only videos, only activities, or only games.
Note: Videos Only subscribers only have access to the Videos Only tab.
Search
To get the most out of the platform, we suggest navigating first through the Curriculum, rather than searching in the search bar.
However, our latest version of the SLP has a new and improved search. Type in a keyword or two into the search bar, and see all of our relevant skills, goals, and materials.
Selecting a relevant skill or goal will take you to that skill or goal in the curriculum so you can learn more about it.
Individual pieces of material are returned by most relevant first – the closest matches to your search term will appear on top. Just like the Browse All Materials page, you can sort and filter your results here.
Some tips for getting the most out of search:
Search for the target skill you want to work on. Don't search "Videos" or "Games". Go to the

Browse All Materials

page if you want to see full listings of materials.

Keep your search short. Searching a single keyword is better than a sentence.

If you can't find what you're looking for, try synonyms.
**Saving to Lists
You'll notice a Save to List button next to any piece of material. You can think of a list as a folder where you can group and save your favorite resources.
You might create a list of your favorite materials for your Wednesday afternoon group, Best Conversations Materials, or for an entire class.
You can create an unlimited number of lists. You can also duplicate, rename, or delete lists.
If you prefer a physical list, you can use the Printable Version button on one of your lists to download a PDF with a listing of the materials on your list to check off as you go.
You can access your Saved Lists from your dashboard, where they're ordered by most recently created, or from the Saved Lists button on the navigation bar.
Material Mix Monday
If you go into your Saved Lists from the navigation bar you'll notice one list already in there – Material Mix Monday. Every Monday we send out an email with some of our materials – these may be the newest materials we've released, or materials focused on a theme – like Back to School or Holidays. All of these materials will be contained in this list.
Anytime you see the Everyday Speech play button icon next to a list that means it's a list we've created for you. These lists appear by default and can't be modified.
Settings
If you click on the Person Icon in the upper right hand corner you can navigate to your Settings.
Here you can update your name, email, and create a new password.
You can also launch the Billing Portal to modify your subscription, including upgrading, adding a new credit card, cancelling, or pausing.
Important Note: If your organization signed up via a Purchase Order, your subscription cannot be modified from our billing portal. You should contact support to modify your subscription.
If you signed up via the Apple App store, you cannot modify your subscription from the web. Apple handles all billing for In-App Purchases, so you can modify your subscription from your iPad by following these directions.
Support / Help Center
If you're having trouble using our product, you have some ideas for videos you want us to film, or you just want to say hi, we'd love to hear from you!
Click on the question mark icon in the navigation bar to be brought to our help center. Here you'll find our Knowledge Base, our database of support articles. We suggest searching for your issue here first, as we have instant answers to the vast majority of questions people ask.
If you can't get your question answered from the knowledge base, or you just want to talk to a real person, you can submit a ticket from this page or start a chat with one of our agents. Yes, it's a real person reading your submission, not a robot!
Wrapping Up
Hope you enjoyed this walkthrough of the Social Learning Platform! If you have any further questions, visit our help center to read more in depth articles or submit a support ticket.
Happy socializing!
Comments