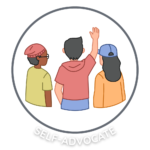 Welcome to our latest resource for middle school special educators! Today, we're focusing on a vital skill for young learners: self-advocacy. This blog post presents a simple, no-prep lesson plan, centered around a "Free Middle School Self-Advocacy Interactive Activity." We'll guide you through engaging and easy-to-implement activities from Everyday Speech, aimed at empowering your students to confidently speak up for themselves and their needs.
---
Understanding Self-Advocacy
Why Teach Self-Advocacy?
Self-advocacy is a crucial life skill, especially for middle school students who are navigating complex social and academic environments. By learning to advocate for themselves, students gain confidence, independence, and a better understanding of their own needs and rights.
---
Lesson Plan Overview
Objective: To enable middle school students to understand and practice self-advocacy skills.
Materials Needed: Interactive activity from Everyday Speech (free to download)
Duration: 30-minutes
---
The Lesson Plan
1. Introduction to Self-Advocacy (5 minutes)
Begin with a brief discussion on what self-advocacy means.
Pose questions like, "What does it mean to speak up for yourself?" and "Why is it important to let others know what you need?"
2. Interactive Activity: Fill-in-the-Blank Sentences (15 minutes)
Share the interactive activity from Everyday Speech (via Smart Board or computer).
Guide students through the fill-in-the-blank sentences, using the provided word bank.
Encourage discussion about each sentence and what it means in the context of self-advocacy.
3. Group Discussion and Reflection (10 minutes)
Discuss the completed sentences as a class.
Encourage students to share their thoughts and feelings about advocating for themselves.
Close with a reflection on how these skills can be applied in their daily lives.
Conclusion
Teaching self-advocacy is not just about empowering students; it's about giving them the tools they need to navigate their world with confidence and clarity. We hope this lesson plan serves as a valuable tool in your teaching toolkit. By utilizing the free resources from Everyday Speech, you can help your middle school students develop the crucial skill of self-advocacy in a fun, interactive way.
Remember, every student's voice is important, and it's our role as educators to help amplify it.
Sample Video
Students learn best from watching real students their own age model skills. Try out this sample video-modeling lesson below. We offer our entire Social-Emotional Learning platform free for 30 days here!
Related Blog Posts:
Free Middle School Conversation Skills Material
Teaching Middle School Students to Make Plans with Friends
Effective Social Skills Videos for Middle School Students: A Comprehensive Guide