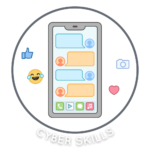 As the digital world becomes increasingly intertwined with the lives of students, cyberbullying emerges as a significant concern. Special educators play a pivotal role in teaching high school students not just about the dangers of cyberbullying but also how to be proactive upstanders in such situations. Keep reading to check out our free high school cyberbullying lesson.
Understanding Cyberbullying and its Impact
Cyberbullying, the use of digital platforms to harass, intimidate, or belittle peers, can have profound psychological effects on students. Recognizing and responding to it is a critical skill for today's youth.
Lesson Plan: High School Cyberbullying
Objective:
Equip high school students with the knowledge and skills to identify cyberbullying and become effective upstanders.
Materials:
---
Step-by-Step Activities:
Introduction to Cyberbullying (10 minutes)

Begin with a discussion on what constitutes cyberbullying and its differences from traditional bullying.
Emphasize the anonymity and pervasive nature of online harassment.

Video Learning (5 minutes)
Cyberbullying Scenarios (15 minutes)

Use the scenario cards to simulate cyberbullying situations.
Encourage students to role-play as both the victim and the upstander.
Conclusion
In our digitally connected world, understanding cyberbullying and fostering the courage to be an upstander are vital skills for high school students. Special educators have the opportunity to shape responsible digital citizens who can make the online world a safer and more respectful space.
---
Sample Video
Students learn best from watching real students their own age model skills. Try out this sample video-modeling lesson below. We offer our entire Social-Emotional Learning platform free for 30 days here!
Related Blog Posts:
Free Middle School Emotional Recognition Worksheet
Free Middle School Empathy Goal Poster and Lesson
Enhancing Focus and Self-Regulation with the Five Finger Breathing Exercise