Thanksgiving isn't just about feasts and parades; it's a time for reflection and gratitude. Special educators can bring this spirit into their classrooms with a fun and meaningful craft activity from Everyday Speech. Check out this this free elemententary Thanksgiving craft and lesson plan!
The Essence of Thanksgiving in the Classroom
Integrating Thanksgiving themes in education helps in:
Fostering Gratitude: Encouraging students to recognize and appreciate the good in their lives.
Enhancing Creativity: Crafting activities spark imagination and innovation.
Building Community: Group activities strengthen bonds among students.
Lesson Plan: Thanksgiving Craft Activity
Objective:
Inspire students to express their gratitude through a creative Thanksgiving-themed craft activity.
Materials:
---
Step-by-Step Activities:
Introduction to Gratitude (10 minutes)

Start with a discussion about Thanksgiving and its significance.
Encourage students to think about what they are grateful for.

Crafting the Turkey Placemat (20 minutes)

Distribute the turkey placemat templates and crafting materials.
Guide students in creating and decorating their turkeys. Each feather can represent something they're thankful for.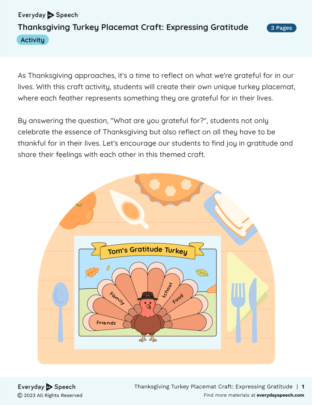 3. Sharing Gratitude (10 minutes)
Invite students to share their turkey placemats and explain their gratitude feathers.
Foster a respectful and attentive listening environment.
Conclusion
Thanksgiving crafts are a delightful way to bring the essence of the holiday into the classroom. By focusing on gratitude, special educators can nurture a sense of appreciation and community among their students, making Thanksgiving more meaningful.
Sample Video
Students learn best from watching real students their own age model skills. Try out this sample video-modeling lesson below. We offer our entire Social-Emotional Learning platform free for 30 days here!
Related Blog Posts:
Using Video Modeling to Teach Growth Mindset
Growth Mindset for Special Education: Activities and Discussions
Promoting Problem-Solving in Children: Fun and Interactive Worksheets