Voice Typing in Google Docs-AT and SLP Applications!
Anyone who frequently uses Google Docs for work or personal use may want to check out their new Voice Typing feature. I use Google Docs all the time while working on my business or for personal use like planning my upcoming wedding. What I like most about Google Docs is the ability to easily share your work with others and how it automatically saves everything. As an avid user I was curious to learn about the voice dictation feature and how it could help students with diverse learning needs. Keep reading to see some of the things I found out.
What it is/How it Works
Voce Typing within Google Docs is a simple and straightforward speech to text tool that will turn the words you say into written text on the screen. It is new and therefore comes with some restrictions. It is only available in Google Docs so it can't be used in other forms of Google Drive such as Spreadsheets and Slides. You also have to be using a Chrome web browser. For exact steps on how to use it, see below.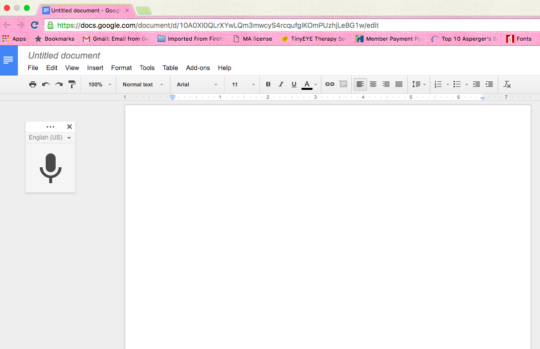 Steps to Begin Using:
Make sure your microphone is on.
Open a document in Google docs (again you have to be using a Chrome web browser).
Click Tools> Voice typing. A microphone box will pop up.
To start the voice dictation, click the microphone. It will turn red while it listens to you.
Speak as clearly as possible with your regular volume and pace.
To finish, click on the microphone again.
How to Correct Mistakes:
Don't turn off the microphone but place the cursor on the mistake and say the word again.
Move the cursor where you want to keep typing.
You can also right-click on words underlined in gray to see a list of suggestions.
Voice Commands
There are a ton of voice commands you can use to edit such as formatting, spacing, or highlighting text; basically anything you would do while normally using Goggle Docs. Most of the commands are pretty basic, you simply say what you want to do such as "copy" or "delete". I've put together a list of the commands I think would be used most often as a reference guide. To see a complete guide just click on help or if using voice dictation say, "Voice typing help", "Voice commands list", or "See all voice commands".
Bold
Italicize
Underline
Text color [color]
Highlight
Decrease font size
Increase font size
Line spacing double
Line spacing single
Insert bullet
Insert number
To remove any format or effect simply say "Remove [effect] such as "Remove underline"
Copy
Cut
Paste
Delete
Delete last word
There are many more; essentially anything you would manually do using Goggle Docs has a voice command. These are just the ones I thought the majority of people, especially students, would be using most.
My experience using it/ How well does it hear you?
I tested it out without using any of my fancy microphones headsets that I have for telepractice. I wanted to see how most people would be using it. I was pretty surprised to see how well it picked up my voice and accurately typed what I was saying. This is a much easier tool to learn than some of the fancier software out there such as Dragon Dictation. I've found if a tool has a steep learning curve some students may not be motivated to use it. While this takes a little getting used to, it is overall pretty easy to use.
You do have to get used to talking in robot talk and speaking all of the punctuation. It doesn't feel very natural at first to say "The Titanic was a cruise ship that sank in the North Atlantic Ocean on April 15th comma 1912 period". I do think however after a short amount of time; you can get used to it. Another thing to look out for is ff you do not use the exact command for formatting you end up with the typed word instead of the action. A helpful tip is to give a long pause before you say a command. I found when I did not give enough of a pause, it wrote the command out instead of performing it. All in all, it is like any software you use; it takes some time to learn and it's certainly not perfect but it can be a time saving tool.
Applications for Assistive Technology
So the big question is who can use and benefit from Voice Typing? First of all, anyone! If you're a person who would much rather speak something out then type it up then this could be great for you. As a learning tool or even life tool I think this could be helpful for people with physical limitations that make typing difficult. I've worked with many students who struggle and spend hours writing reports due to disorders such as dyslexia, language delays, or executive function disorders who could use this tool. I always explain that AT tools are meant to aid not replace the students' skills. This isn't a tool that does a report for them, but it helps them do the work so they don't have to struggle and spend double or triple the time that other students would spend on assignments.
Practical Ways to use Voice Dictation:
Finally, I've brainstormed some ways I think people could use this tool either in their academic, professional, or personal lives. In no particular order, here they are:
Writing emails-Use voice typing to write your email in a google doc and copy-paste it to your email.
Making lists- You can use voice typing for any kind of list, as simple as grocery shopping.
Writing assignments/reports for school or work
Group projects- I loved using Google Docs in college for group projects because everyone could edit it together. To use the Voice Typing you would not be able to work in the same room as others because you need a quiet space, but you could work on it together remotely.
Collaborate and leave feedback or comments for any work related project
Organize your life (and documents)- Students can keep their notes, projects, and slides from classes or keep personal or professional info in these folders as well!
Prepare for job interviews by keeping notes, resumes, cover letters, and interview prep material all in one folder!
Hope you guys found this info useful! Again note that unfortunately you can't use the voice typing in other forms such as Google Spreadsheets or Google Slides but maybe they'll add this feature soon! For more information and detailed user guides check out Google Drive help. Let me know your thoughts on how this could be helpful to students or our SLP community!
As usual follow us on Twitter, Pinterest, and like us on Facebook for the newest info on our tools, tech, & therapy ideas!