Using Let's Learn Emotions to Teach Social Skills & Pragmatic Language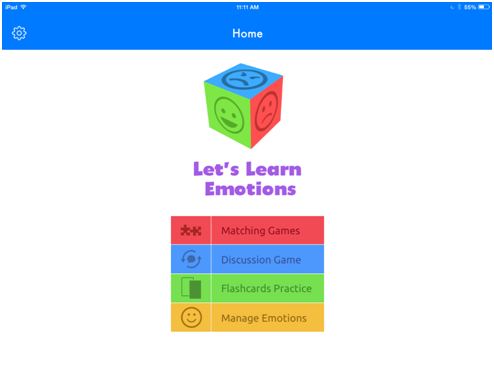 Today I want to show everyone how to use our app Let's Learn Emotions. This is a social skills app we created to help people learn to recognize and understand different emotions. It comes with flashcards to learn and practice emotions, a matching game, and a discussion game where students can talk about the emotions. The app is intended for anyone with social or emotional difficulties and can be used with a wide range of ages. I use it with my own students whose ages range from seven years old all the way through high school.  I've found my students have a lot of fun with the app!
Matching Game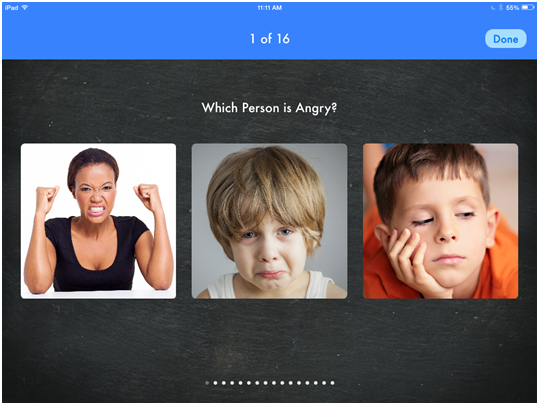 Let's Learn Emotions offers three activities to practice learning emotions. The first is a matching game where the student matches the feeling to a picture. You're given the option to match an emotion with a face (currently available) or match the face to an emotion (in an updated version coming soon!). This gives the user a chance to select how they want to play the game. In both versions, the student has to match from a field of three.
Then you can choose your settings. You pick how many emotions you want to work on. It might be all 15 emotions that come standard, or only a select few you really want to work on. The app comes with the following emotions: angry, excited, happy, sad, scared, surprised, tired, annoyed, bored, confused, embarrassed, frustrated, nervous, proud, and worried.
You're also given the choice to randomize the order of emotions given (which is nice for students who memorize answers), show which choices are wrong or show the score once you're done with the game (this is a quick way to get some data too for all my fellow speech therapists).
Flashcards
The flashcards are pretty straightforward and offer a way to practice the emotions. They begin with a picture and reveal the emotion when tapped on. We also give a description of how you can tell when someone feels this way.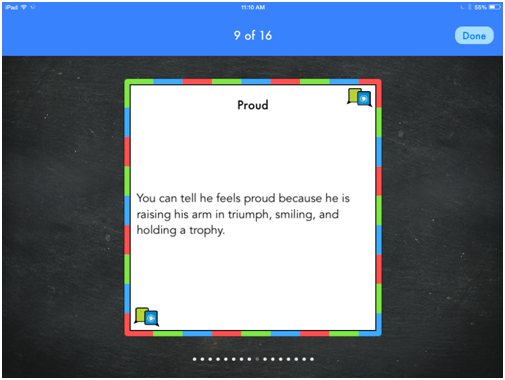 Discussion Game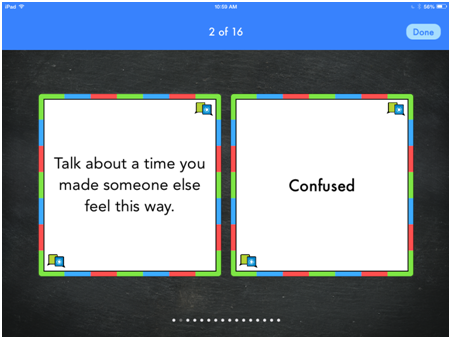 The discussion game is a nice way to deepen your students' understanding of these feelings. There are 15 prompts which offer a direction such as "talk about a time when you felt this way" or "Describe what this emotion looks like". These give more opportunities for your students to talk through the emotions and show what they know. This is a fun game to play in a group or in a one to one session.
The game is very simple; each prompt is randomly drawn and shows up with an emotion. Tapping on the prompt will read it out loud and tapping on the emotion card will show the picture if they need that cue. As with the matching game, you have the ability to select which emotions you want to work on and are given many options for settings. You can turn off the option to give a hint, turn off all animations if they are distracting, and turn off the text to speech. The game encourages further discussion and is a great supplement to the matching game!
You can also easily add your own prompts in seconds!
Adding your Own Emotions
Want to add an emotion to our list? No problem! By going to "Manage Emotions" on the main menu, you simply click on "Add" to add another emotion. You can save a photo from the web or take a picture to use as the emotion (see below).
It's also fun to take picture of your own students because then they see themselves in the app!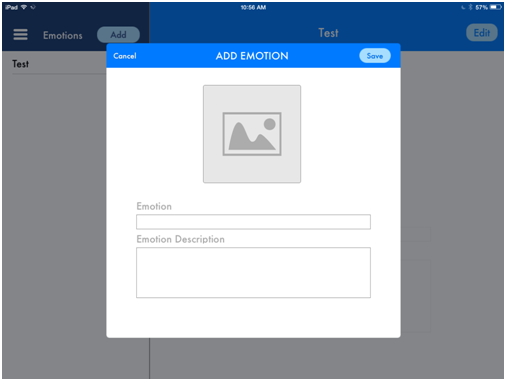 Let us know if you've used Let's Learn Emotions! Don't forget to sign up for our mailing list here to stay updated with our latest therapy tips, app announcements, and blog posts.  Don't forget to follow us on Twitter, Pinterest, and like us on Facebook!