Social Skills Videos Round 2 – Coming Late Summer 2015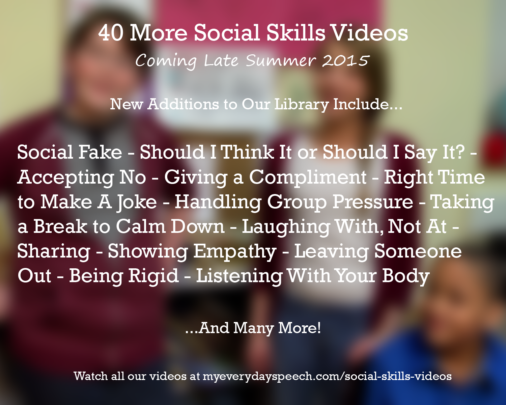 Our social skills videos library is getting even bigger! We've gotten such great feedback from you on our first batch of videos, we're adding a ton more. Our current library is 35 videos, and we're planning on adding 40-45 more. That means our library will more than double!
If you're not familiar with our social skills videos, they are short, 1:30-2:30 minute videos designed to help SLP's, Special Ed Teachers, and behavioral professionals teach social skills to diverse learners. Each video walks the student through the key concept using narration and on screen text. We then show an unexpected behavior, and talk about how it made the people in the situation feel through thought bubbles and internal thoughts. After reinforcing the topic, we show the expected behavior and see how the situation changes.
Our new videos will continue to build on the solid base of videos we already have. Your feedback has been much appreciated and we expect this batch of videos to be the best ones yet.
How Can I Get the Videos?
Right now we're running a launch special on our subscription. It's currently 50% off for the monthly subscription, and the annual subscription saves you even more! You'll get access to all our current videos, and when we add our next round of videos, you'll get them automatically at no extra charge! Visit this link to learn more about purchasing options.
If you're planning on using the videos for next year, subscribing now will save you substantially over subscribing in the fall.
Enjoy the videos, and as always, contact us with any questions.