Social Skills Video: Understanding Sarcasm
This blog post is one in a series of entries outlining our social skills videos. Our social skills video library is up to 80 videos, each focusing on a social interaction that children and young adults has to face on a daily basis. All videos compare expected and unexpected behavior and show internal thoughts to get the perspective of everyone involved. Videos can be viewed on all your devices, including PC's, Mac's, iPad and Android tablets, and smartphones. To learn more about our social skills video library, head over to our main Social Skills Videos page.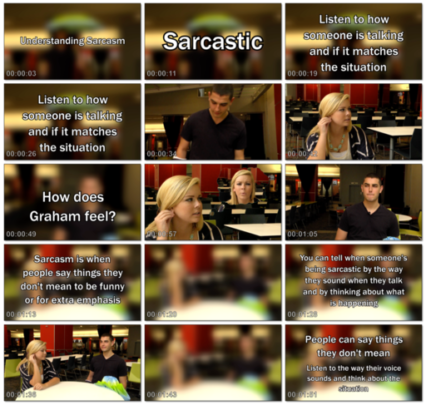 Maddie has a hard time understanding sarcasm. Therefore she isn't able to follow conversations and respond. She needs to learn how to tell when people are being sarcastic.
Use Understanding Sarcasm
Sarcasm can be so difficult to understand. I like to teach my students some ways to know when someone is being sarcastic. If the situation isn't matching what they are saying, there is a good chance they are being sarcastic. This is a great time to work on tone of voice as well. Practice saying different statements in a sarcastic voice or in a sincere voice. Talk about the differences in how their voices sound.