Social Skills Video: Tone of Voice
This blog post is one in a series of entries outlining our social skills videos. Our social skills video library is up to 80 videos, each focusing on a social interaction that children and young adults has to face on a daily basis. All videos compare expected and unexpected behavior and show internal thoughts to get the perspective of everyone involved. Videos can be viewed on all your devices, including PC's, Mac's, iPad and Android tablets, and smartphones. To learn more about our social skills video library, head over to our main Social Skills Videos page.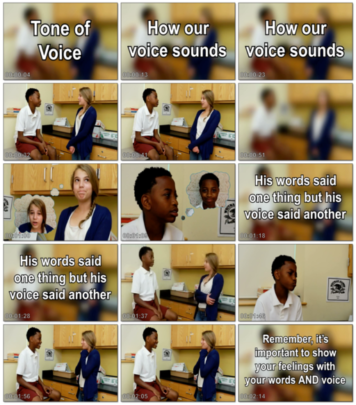 Chris and Serena are excited about the elephant movie they are going to watch in class, but Chris doesn't sound excited. His voice doesn't match the message that he's telling. Chris learns that we tell people messages with our words AND our voices. Next time, Chris sounds much more excited.
Use Tone of Voice
There are so many skills to learn when it comes to having a conversation! Once we have the basics of topics and turn taking down, we can focus on body language and tone of voice. I like to have students practice telling the same message with different tones of voice. The same words have a new meaning if they said in an excited tone or a sad tone.