Social Skills Video: Thinking About Others
This blog post is one in a series of entries outlining our social skills videos. Our social skills video library is up to 80 videos, each focusing on a social interaction that children and young adults has to face on a daily basis. All videos compare expected and unexpected behavior and show internal thoughts to get the perspective of everyone involved. Videos can be viewed on all your devices, including PC's, Mac's, iPad and Android tablets, and smartphones. To learn more about our social skills video library, head over to our main Social Skills Videos page.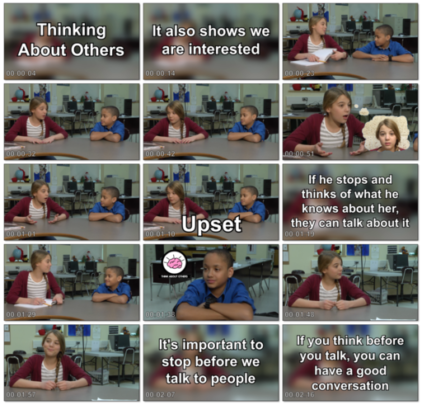 When Devin forgets that Serena plays basketball, she feels upset because she has told him many times. Watch as Devin learns to take a minute and think about who he's talking to and what they like.
Use Thinking About Others
Once we have the basics of conversations down, we can introduce the idea that different people like to talk about different things. We have multiple videos that work on this concept. This lesson shows how taking time to think about a person and what they like can help you have conversations. If you know they are on a basketball team, you can talk to them about it! If you don't think about their interests, you might have a hard time having a conversation.