Social Skills Video: Texting Friends
This blog post is one in a series of entries outlining our social skills videos. Our social skills video library is up to 80 videos, each focusing on a social interaction that children and young adults has to face on a daily basis. All videos compare expected and unexpected behavior and show internal thoughts to get the perspective of everyone involved. Videos can be viewed on all your devices, including PC's, Mac's, iPad and Android tablets, and smartphones. To learn more about our social skills video library, head over to our main Social Skills Videos page.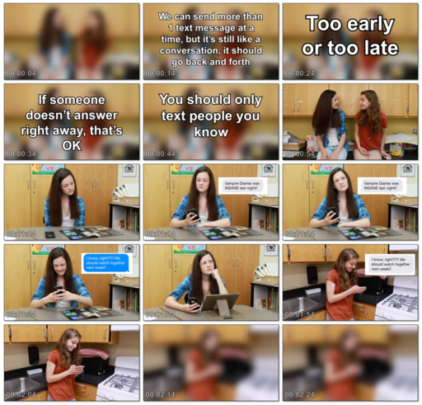 Sarah and Kate want to text about their favorite TV show. Before they do, there are some rules they should know. We shouldn't text too early or too late, and we can send multiple messages at one time, but we should wait until our friend responds before sending more. Most importantly – we should only text people we know, like our family and friends.
Use Texting Friends
Texting is another social area that teens have to navigate. As with any social skill it helps to have some guidelines. This video points out some basic tips on when and how to text with friends and what will happen if you break these texting rules.