Social Skills Video: Staying On Topic
This blog post is one in a series of entries outlining our social skills videos. Our social skills video library is up to 80 videos, each focusing on a social interaction that children and young adults has to face on a daily basis. All videos compare expected and unexpected behavior and show internal thoughts to get the perspective of everyone involved. Videos can be viewed on all your devices, including PC's, Mac's, iPad and Android tablets, and smartphones. To learn more about our social skills video library, head over to our main Social Skills Videos page.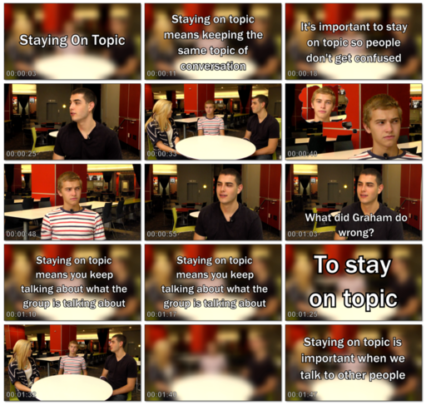 Nick asks his friends about their math homework but Graham makes a comment about a new video game. The group feels confused by Graham's remark because it is off topic. Graham needs to remember to stay on topic so he doesn't confuse people.
Use Staying On Topic
This is another lesson that shows what will happen if you go off topic. Use this one with middle-high school aged students who are working on maintaining conversations. Have students map out the conversation showing where they went off topic and how they could keep it on topic.