Social Skills Video: Starting a Conversation
This blog post is one in a series of entries outlining our social skills videos. Our social skills video library is up to 80 videos, each focusing on a social interaction that children and young adults has to face on a daily basis. All videos compare expected and unexpected behavior and show internal thoughts to get the perspective of everyone involved. Videos can be viewed on all your devices, including PC's, Mac's, iPad and Android tablets, and smartphones. To learn more about our social skills video library, head over to our main Social Skills Videos page.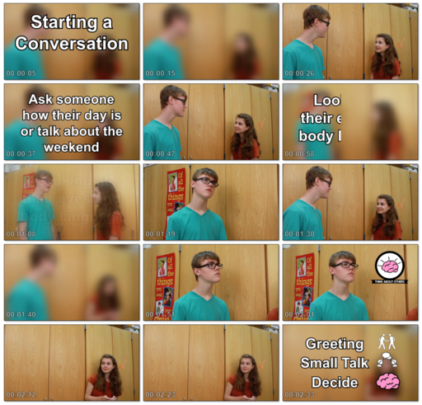 Mike and Sarah learn about the steps in a conversation. First, you greet the person. Next, you make a little small talk, and ask the person how they are. Finally, you decide if the person is interested in talking any more. Mike sees what Sarah's body language would look like if she wanted to keep talking, and if she didn't.
Use Starting a Conversation
This video is more of a how to guide for having a conversation. We start by showing greetings. Then move to small talk and finally we show how to decide if you should continue the conversation or wrap it up. This is another way being a great observer can lead to successful social interactions!