Social Skills Video: Saying Too Much
This blog post is one in a series of entries outlining our social skills videos. Our social skills video library is up to 80 videos, each focusing on a social interaction that children and young adults has to face on a daily basis. All videos compare expected and unexpected behavior and show internal thoughts to get the perspective of everyone involved. Videos can be viewed on all your devices, including PC's, Mac's, iPad and Android tablets, and smartphones. To learn more about our social skills video library, head over to our main Social Skills Videos page.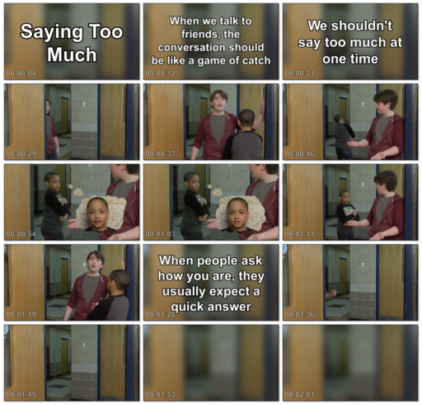 Andrew and Devin meet in the hallway for a quick conversation, but Andrew has a lot to say! Devin really needs to get to class, but can't seem to end the conversation with Andrew. Andrew needs to learn when it's appropriate to have a longer conversation, and when it's best to keep the conversation short.
Use Saying Too Much
One of the first things I usually do in a social skills group is go around and check in with everyone. This is where students can quickly tell me about their day. Some students use this as an opportunity to tell the group a 10 minute synopsis of their week and don't see this is not what the rest of the group was doing. Sometimes people expect a quick answer, and if you say too much it will not be expected and therefore make people uncomfortable.