Social Skills Video: Public Vs. Private
This blog post is one in a series of entries outlining our social skills videos. Our social skills video library is up to 80 videos, each focusing on a social interaction that children and young adults has to face on a daily basis. All videos compare expected and unexpected behavior and show internal thoughts to get the perspective of everyone involved. Videos can be viewed on all your devices, including PC's, Mac's, iPad and Android tablets, and smartphones. To learn more about our social skills video library, head over to our main Social Skills Videos page.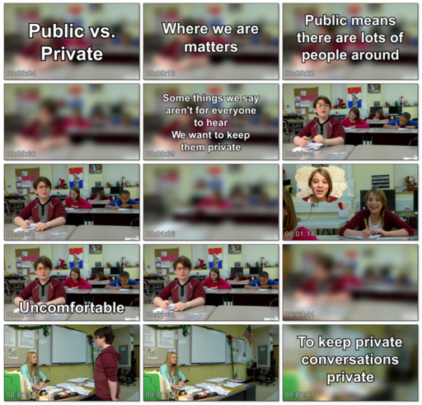 Andrew shouts about going to the bathroom in front of the entire class. Everyone starts laughing and the class is disrupted. Andrew needs to realize that some things are private, and can't be said in public. Next time, he'll speak to the teacher in private if he needs to go to the bathroom.
Use Public Vs. Private
This is a topic I have spent many lessons on. As students get older, they need to be aware that there are some things they can only talk about in private. I like to go over what the words "private" and "public" actually mean. Students can make lists of private places and public places. Then we go over topics that can be public and what should stay private. I also like students to think about who they should speak with if they need to talk about something private. They should know they can ask to talk to a teacher in a private space like an empty hallway.