Social Skills Video: Politely Saying No to an Invitation
This blog post is one in a series of entries outlining our social skills videos. Our social skills video library is up to 80 videos, each focusing on a social interaction that children and young adults has to face on a daily basis. All videos compare expected and unexpected behavior and show internal thoughts to get the perspective of everyone involved. Videos can be viewed on all your devices, including PC's, Mac's, iPad and Android tablets, and smartphones. To learn more about our social skills video library, head over to our main Social Skills Videos page.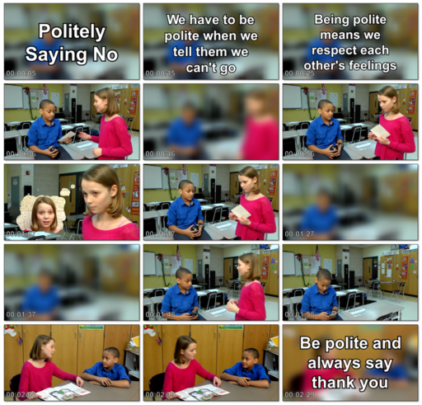 When Devin gets an invitation to Alessandra's birthday party, he immediately hands it back to her and says he doesn't want to go. Alessandra's feelings are hurt. Later, Devin learns the polite way to say he doesn't want to go.
Use Politely Saying No to an Invitation
I witnessed a student give back a birthday invitation and saw how devastated the other student was. My student didn't realize how it would make their friend feel when they gave back the invitation. They were simply thinking about how they couldn't go. It was actually a somewhat logical thing to do-telling the student right away "I can't go" but by saying it right away and giving back the invitation, my student unintentionally hurt someone's feelings. This is just one example of the many social situations that can come up that are confusing for our students to navigate.