Social Skills Video: Making a Good First Impression
This blog post is one in a series of entries outlining our social skills videos. Our social skills video library is up to 80 videos, each focusing on a social interaction that children and young adults has to face on a daily basis. All videos compare expected and unexpected behavior and show internal thoughts to get the perspective of everyone involved. Videos can be viewed on all your devices, including PC's, Mac's, iPad and Android tablets, and smartphones. To learn more about our social skills video library, head over to our main Social Skills Videos page.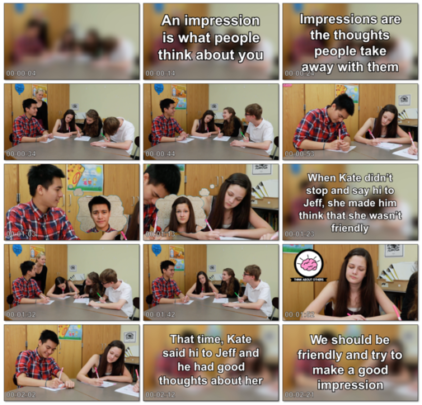 Jeff is new to the class and is meeting everyone. Kate is busy working on a worksheet and can barely muster a "hi". Jeff thinks that she must not be a very nice person. Kate learns that impressions are what people think about us. It's important to make a good first impression. Next time, Kate takes a second to properly introduce herself and Jeff has good thoughts about her.
Use Making a Good First Impression
There are lots of ways to make a great first impression. There are also many ways to make a not so good impression. I like to have students brainstorm ways to make a good impression and no so good. I also ask if they can remember a time when they had great thoughts about someone they first met. Maybe it was a teacher on the first day of school and they thought this teacher will be nice. How did that person act? Then I ask what are some ways they can make good first impressions.