Social Skills Video: Learning to Say No
This blog post is one in a series of entries outlining our social skills videos. Our social skills video library is up to 80 videos, each focusing on a social interaction that children and young adults has to face on a daily basis. All videos compare expected and unexpected behavior and show internal thoughts to get the perspective of everyone involved. Videos can be viewed on all your devices, including PC's, Mac's, iPad and Android tablets, and smartphones. To learn more about our social skills video library, head over to our main Social Skills Videos page.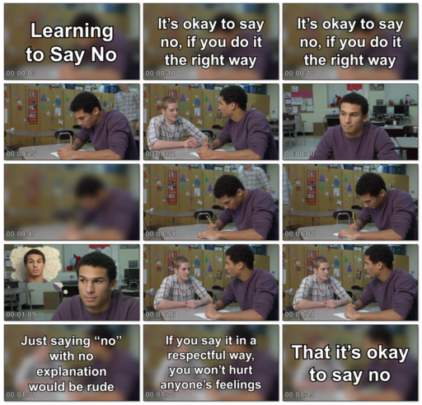 Sometimes it can be so hard to say no to friends. Ryan asks Jameson to go play outside. Jameson has homework to do but he doesn't know how to say no, so he goes outside with him. Later, he learns that it's OK to say no, and that Ryan will still be his friend.
Use Learning to Say No
Some students just want to please everyone and would never say no to a friend. They need to learn that it is okay to put themselves first in some situations. Brainstorm some times that they would need to say no to a friend. How would they say it in a way that doesn't hurt anyone's feelings? What should the response of the friend be? There are endless situations that give opportunities to learn.