Social Skills Video: Laughing With Not At
This blog post is one in a series of entries outlining our social skills videos. Our social skills video library is up to 80 videos, each focusing on a social interaction that children and young adults has to face on a daily basis. All videos compare expected and unexpected behavior and show internal thoughts to get the perspective of everyone involved. Videos can be viewed on all your devices, including PC's, Mac's, iPad and Android tablets, and smartphones. To learn more about our social skills video library, head over to our main Social Skills Videos page.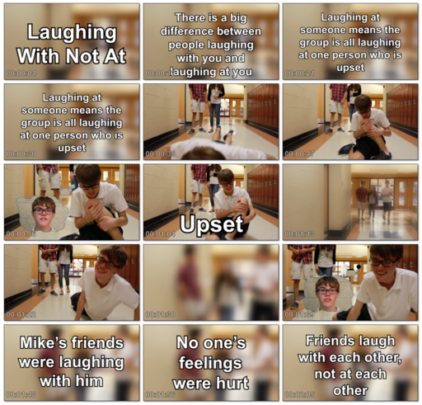 Mike falls in the hallway and Jeff makes a joke. Mike is really hurt and gets upset when Jeff makes a joke about him. Jeff learns that friends laugh with each other, not at each other. When it happens again, Jeff makes sure Mike is OK. When Mike starts laughing, Jeff makes a joke and laughs with Mike. This time, Mike has much different thoughts about Jeff.
Use Laughing With Not At
A lot of my student's parents bring up the concern that their child doesn't understand when they are part of a group and when they are not. This can lead into confusing social situations. We never want students to become part of a friendship that is not really a friendship at all. Therefore we can teach some ways to recognize when you are part of the group. This video focuses on when friends are laughing with each other in a friendly way, which is totally fine. It also shows what it looks like to be laughed at, which does not feel good.