Social Skills Video: Introducing Yourself
This blog post is one in a series of entries outlining our social skills videos. Our social skills video library is up to 80 videos, each focusing on a social interaction that children and young adults has to face on a daily basis. All videos compare expected and unexpected behavior and show internal thoughts to get the perspective of everyone involved. Videos can be viewed on all your devices, including PC's, Mac's, iPad and Android tablets, and smartphones. To learn more about our social skills video library, head over to our main Social Skills Videos page.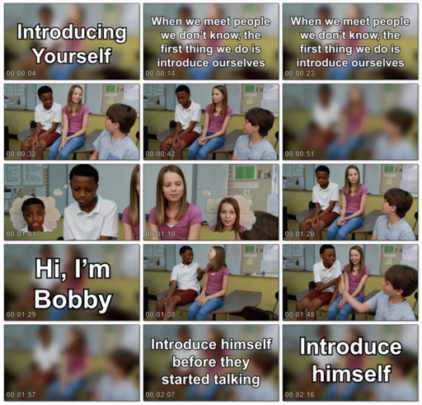 Alessandra and Chris are talking when Bobby comes along. Chris and Bobby don't know each other, but Bobby doesn't introduce himself to Chris. Now Chris feels uncomfortable and like he isn't part of the conversation. When Bobby tries again, he takes a second to introduce himself and everything goes smoothly.
Use Introducing Yourself
If you walk up to a group and don't introduce yourself you will make the people around you feel uncomfortable or confused. We show an example of this and get the inner thoughts of the people in the group. Then we model how to introduce yourself.