Social Skills Video: Ignoring Other People
This blog post is one in a series of entries outlining our social skills videos. Our social skills video library is up to 80 videos, each focusing on a social interaction that children and young adults has to face on a daily basis. All videos compare expected and unexpected behavior and show internal thoughts to get the perspective of everyone involved. Videos can be viewed on all your devices, including PC's, Mac's, iPad and Android tablets, and smartphones. To learn more about our social skills video library, head over to our main Social Skills Videos page.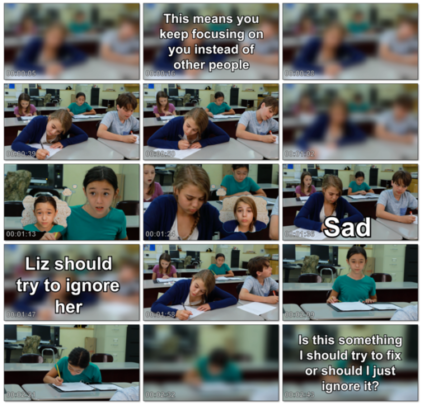 When Serena is sounding out words on a worksheet, Liz gets angry and yells at Serena. Serena was saying the words out loud because it helps her do her work. Liz needs to try to ignore Serena and not get upset about other people. She talks again and blocks out the noise. Then she's able to get her work done!
Use Ignoring Other People
It's not so easy but sometimes it's best to ignore other people rather than asking them to change their behavior. This provides an opportunity to talk about when is a time you should ignore the problem or when should you act. Ignoring others can be a good thing when it's used as a strategy.