Social Skills Video: Handling Group Pressure
This blog post is one in a series of entries outlining our social skills videos. Our social skills video library is up to 80 videos, each focusing on a social interaction that children and young adults has to face on a daily basis. All videos compare expected and unexpected behavior and show internal thoughts to get the perspective of everyone involved. Videos can be viewed on all your devices, including PC's, Mac's, iPad and Android tablets, and smartphones. To learn more about our social skills video library, head over to our main Social Skills Videos page.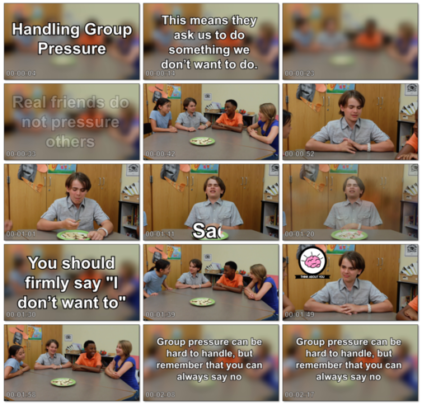 Bobby gets dared to eat all the cookies on a plate. He doesn't want to, but he wants his friends to like him, so he does it anyway. He feels sick after and regrets his choice. Bobby realizes he is his own person, and his real friends wouldn't make him do something he didn't want to do. When he tries again, he stands up for himself and says no. Everyone laughs and keeps on talking.
Use Handling Group Pressure
Peer pressure can be so difficult for anyone to handle. We all want to be liked and have friends. When other people pressure us, they are not really being friends. Use this video to teach how to recognize when students are being pressured and how they can say no.