Social Skills Video: Focusing on What People are Asking
This blog post is one in a series of entries outlining our social skills videos. Our social skills video library is up to 80 videos, each focusing on a social interaction that children and young adults has to face on a daily basis. All videos compare expected and unexpected behavior and show internal thoughts to get the perspective of everyone involved. Videos can be viewed on all your devices, including PC's, Mac's, iPad and Android tablets, and smartphones. To learn more about our social skills video library, head over to our main Social Skills Videos page.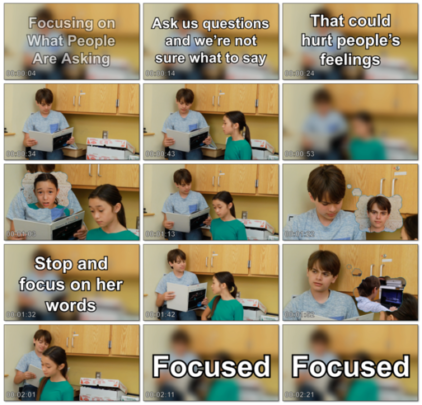 When Liz asks Bobby about his weekend, Bobby doesn't know. Then he stops listening to Liz and the conversation ends. Next time, Bobby takes the time to think about what Liz is asking, and then thinks about his weekend so he can have a good conversation with Liz.
Use Focusing on What People are Asking
I've had many students who have learned to say "I don't know" as any response. It's great that they have learned to say this so they can ask for help but for many it becomes a fill in instead of answering people's questions and conversing with them. I tell these students to stop and focus on the question they're being asked. If they can make a picture in their head, it can help them retrieve an answer.