Social Skills Video: Disagreeing Respectfully
This blog post is one in a series of entries outlining our social skills videos. Our social skills video library is up to 80 videos, each focusing on a social interaction that children and young adults has to face on a daily basis. All videos compare expected and unexpected behavior and show internal thoughts to get the perspective of everyone involved. Videos can be viewed on all your devices, including PC's, Mac's, iPad and Android tablets, and smartphones. To learn more about our social skills video library, head over to our main Social Skills Videos page.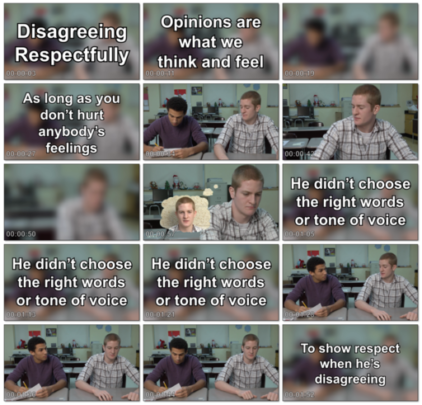 Jameson and Ryan are talking about their favorite video games. Jameson has a different favorite than Ryan, and makes Ryan feel bad when he doesn't agree with him. Jameson needs to learn that even if he disagrees with someone, he still has to be respectful.
Use Disagreeing Respectfully
I like to go around the group and ask everyone's opinions about a topic. This is a fast way to show that we all have different thoughts. That is okay. As long as we don't hurt other people's feelings, we can talk about our different thoughts and opinions.