Social Skills Video: Dealing with Stress
This blog post is one in a series of entries outlining our social skills videos. Our social skills video library is up to 80 videos, each focusing on a social interaction that children and young adults has to face on a daily basis. All videos compare expected and unexpected behavior and show internal thoughts to get the perspective of everyone involved. Videos can be viewed on all your devices, including PC's, Mac's, iPad and Android tablets, and smartphones. To learn more about our social skills video library, head over to our main Social Skills Videos page.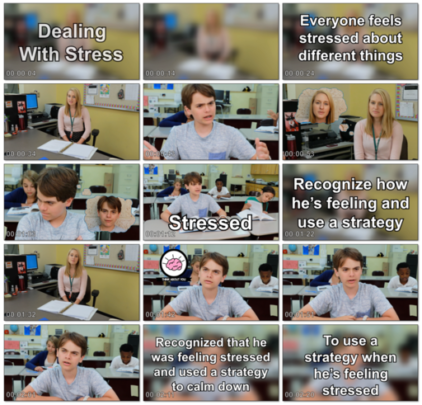 Bobby has too much work to do and yells at the teacher because he's feeling stressed. He disrupted the rest of the class with his actions. Bobby learns he can ask for help, or use a strategy to calm down. He takes a walk and feels much better.
Use Dealing with Stress
Stress can be a huge obstacle to students getting through their days. This video models what it looks like when stress gets the best of you and then teaches some strategies to help students calm down. Different things work for different students. Some may need a point person they can come and talk to when they are upset. Some can calm themselves down by breathing or taking a walk. Come up with different ways to handle change with your students. Some may love to draw and will need to draw a picture to calm down. Others may like writing down their feelings.