Social Skills Video: Change in Your Schedule – Older
This blog post is one in a series of entries outlining our social skills videos. Our social skills video library is up to 80 videos, each focusing on a social interaction that children and young adults has to face on a daily basis. All videos compare expected and unexpected behavior and show internal thoughts to get the perspective of everyone involved. Videos can be viewed on all your devices, including PC's, Mac's, iPad and Android tablets, and smartphones. To learn more about our social skills video library, head over to our main Social Skills Videos page.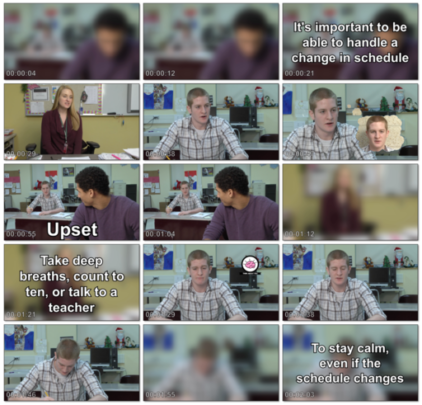 Ryan is planning on finishing his art project in class today. When there's an assembly that he has to go to, Ryan gets upset and is worried that he won't be able to finish his project. He yells that he doesn't want to go to the assembly. Ryan needs to take a second to think about the situation. He can ask if he can finish his project later.
Use Change in Your Schedule – Older
We know our students love their routines. Help them learn strategies when something unexpected pops up. Different things work for different students. Some may need a point person they can come and talk to when they are upset. Some can calm themselves down by breathing or taking a walk. Come up with different ways to handle change with your students. Another important point to think about is the older our students get, the more they are expected to have smaller reactions. An adult who is crying about a ripped paper looks a lot more concerning than a six year old crying. This is important for students to know because it affects the way people think about them.