Social Skills Video: Brain Stuck on One Thing-Younger
This blog post is one in a series of entries outlining our social skills videos. Our social skills video library is up to 80 videos, each focusing on a social interaction that children and young adults has to face on a daily basis. All videos compare expected and unexpected behavior and show internal thoughts to get the perspective of everyone involved. Videos can be viewed on all your devices, including PC's, Mac's, iPad and Android tablets, and smartphones. To learn more about our social skills video library, head over to our main Social Skills Videos page.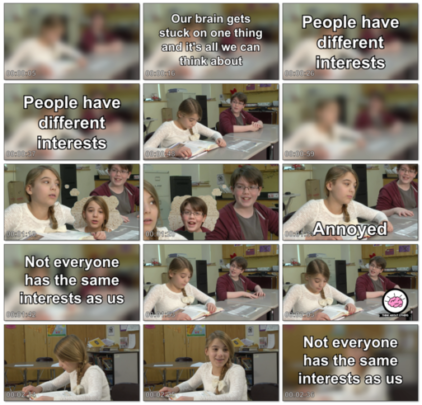 Sometimes our brain gets stuck on one thing, and it's all we want to talk about. Andrew keeps talking about dinosaurs even though Serena isn't interested. Andrew needs to remember to think about what other people are interested in, so they will enjoy having conversations with him.
Use Brain Stuck on One Thing-Younger
Younger students may not realize that everyone has different interests and opinions. Go around in a group and ask for some favorites. Everyone might have a favorite movie or food. This shows how everyone is different and leads to the idea that not everyone wants to talk about our favorite thing all the time. Most of us don't get to talk about our favorite things all day long.