Social Skills Video: Brain Stuck on One Thing-Older
This blog post is one in a series of entries outlining our social skills videos. Our social skills video library is up to 80 videos, each focusing on a social interaction that children and young adults has to face on a daily basis. All videos compare expected and unexpected behavior and show internal thoughts to get the perspective of everyone involved. Videos can be viewed on all your devices, including PC's, Mac's, iPad and Android tablets, and smartphones. To learn more about our social skills video library, head over to our main Social Skills Videos page.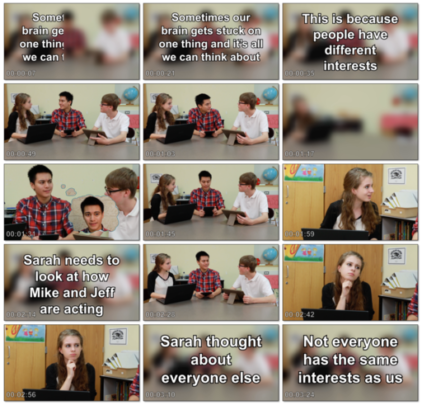 Sarah won't stop talking about her birthday, even when the group is talking about something else. When she keeps bringing up her birthday, Mike and Jeff decide they have to go. When they try again, Sarah stops and thinks about what the group is talking about – they keep talking about the beach and boogie boarding. Sarah realizes that must be what they want to talk about. When she says something about the beach, the conversation goes smoothly.
Use Brain Stuck on One Thing-Older
We all have students who get stuck on one thing and will only talk about that no matter how many times others try to introduce new topics. This video shows the consequence of what will happen when you do that. People will leave! Most people are polite and will wait it out, but they will not be interested in having more conversations. We can teach that there is a time to talk about your favorite things but it just can't be all the time.