Social Skills Video: Being a Tattletale
This blog post is one in a series of entries outlining our social skills videos. Our social skills video library is up to 80 videos, each focusing on a social interaction that children and young adults has to face on a daily basis. All videos compare expected and unexpected behavior and show internal thoughts to get the perspective of everyone involved. Videos can be viewed on all your devices, including PC's, Mac's, iPad and Android tablets, and smartphones. To learn more about our social skills video library, head over to our main Social Skills Videos page.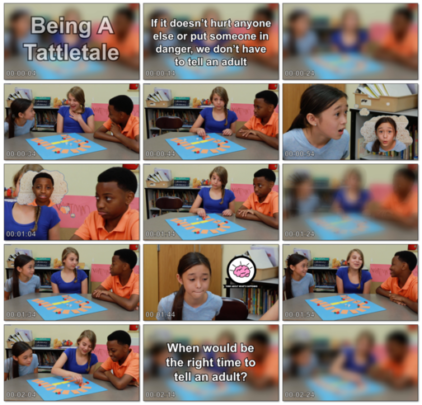 Liz gets upset when Serena tells her she took an extra cookie at lunch. Each person was only supposed to take one, so Serena broke the rules. But Liz needs to think about the situation for a second – everyone was able to get a cookie, and Serena taking an extra one didn't hurt anyone. Liz realizes that it's not a big deal, and she can let the adults handle it.
Use Being a Tattletale
Rule bound students may have a tendency to be a tattletale. It's important to learn when it is okay to tell a teacher, such as when someone may be in danger, and when they should keep it to themselves.