Social Skills Video: Beginning and Ending A Conversation – Older
This blog post is one in a series of entries outlining our social skills videos. Our social skills video library is up to 80 videos, each focusing on a social interaction that children and young adults has to face on a daily basis. All videos compare expected and unexpected behavior and show internal thoughts to get the perspective of everyone involved. Videos can be viewed on all your devices, including PC's, Mac's, iPad and Android tablets, and smartphones. To learn more about our social skills video library, head over to our main Social Skills Videos page.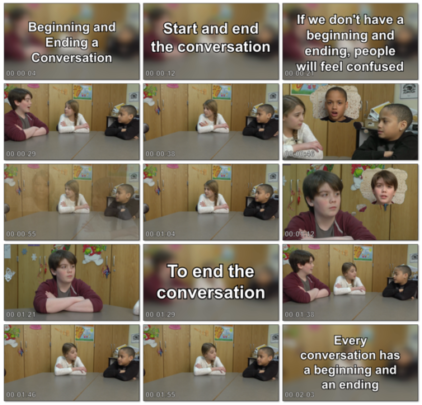 In the middle of a conversation, Andrew realizes he has to talk to his teacher. Instead of ending the conversation, he gets up and leaves! His friends are confused. Andrew needs to remember that every conversation needs to have a beginning and an ending.
Use Beginning and Ending A Conversation
This video explains how the act of leaving without saying goodbye will make others feel. We listen to each member of the group tell how those actions made them feel.