Social Skills Video: Approaching a Group – Younger
This blog post is one in a series of entries outlining our social skills videos. Our social skills video library is up to 80 videos, each focusing on a social interaction that children and young adults has to face on a daily basis. All videos compare expected and unexpected behavior and show internal thoughts to get the perspective of everyone involved. Videos can be viewed on all your devices, including PC's, Mac's, iPad and Android tablets, and smartphones. To learn more about our social skills video library, head over to our main Social Skills Videos page.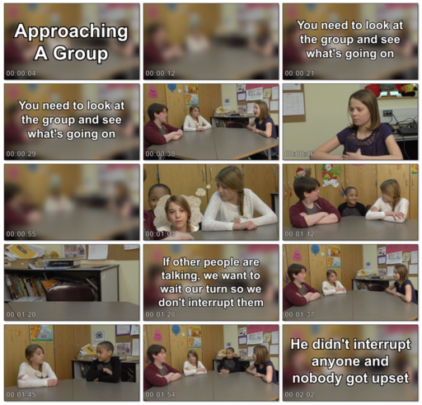 Devin wants to join the group. There's an open seat, but he doesn't notice it and interrupts the group. When Devin wants to approach a group of friends, he should make sure not to disrupt the group.
Use Approaching a Group-Younger
It can be hard to know how to join a group of people. This video goes over the steps. Observe the group, are they busy or just chatting? Next see how you can come over. Is there an empty seat? You can always ask them and make sure you're not interrupting!