Social Skills Video: Act Like You're Interested – Older
This blog post is one in a series of entries outlining our social skills videos. Our social skills video library is up to 80 videos, each focusing on a social interaction that children and young adults has to face on a daily basis. All videos compare expected and unexpected behavior and show internal thoughts to get the perspective of everyone involved. Videos can be viewed on all your devices, including PC's, Mac's, iPad and Android tablets, and smartphones. To learn more about our social skills video library, head over to our main Social Skills Videos page.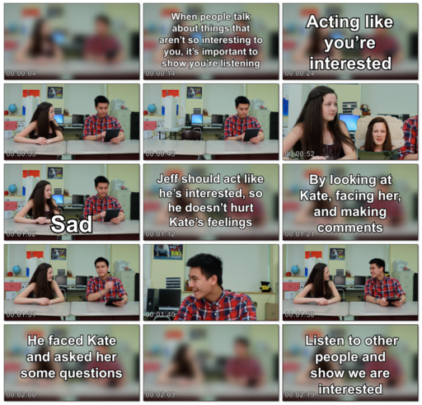 When Kate starts talking about horseback riding, Jeff starts playing on his iPad instead of listening to Kate. Jeff isn't interested in horseback riding, but he hurt Kate's feelings when he showed he didn't care. Jeff tries again and this time he acts like he's interested even though he's not. That way, no one's feelings got hurt.
Use Act Like You're Interested-Older
I like to let students in on a little tip. I'm not always interested when I talk to other adults in the school. They might love sports games where I don't really care about sports. I always act like I am interested and show I am listening because that is polite. It's okay if they are not interested in their classmate's weekend plans but they need to show they are in order to be polite. It's another funny thing we just do all the time!