Everyday Speech Skills
Everyday Speech Concepts
Everyday Speech Visual Tools
Use the tabs to see all of our
Skills, Concepts & Visual Tools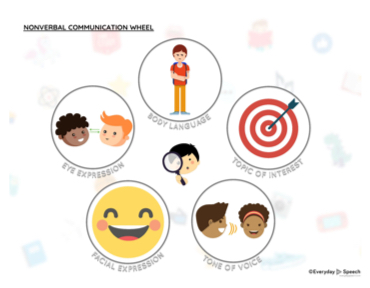 Nonverbal Communication Reference Sheets
Use the following visual tools when teaching or reviewing nonverbal communication.
The Nonverbal Communication Wheel can be hung up in the speech office or used as a reminder for demonstrating nonverbal cues.
The Positive and Negative Nonverbal Communication charts can also be used to introduce or remind students of how to use body language to let others know how they feel, or to work on reading others' nonverbal cues.
Download Visual Tools as PDF
(Right click and select "Open Link in New Tab")
Access the full packet on the Social Learning Platform:
NOTE:
Content may only be available to Everyday Speech subscribers.
Not a subscriber yet? View all our free samples.