Everyday Speech Skills
Everyday Speech Concepts
Everyday Speech Visual Tools
Use the tabs to see all of our
Skills, Concepts & Visual Tools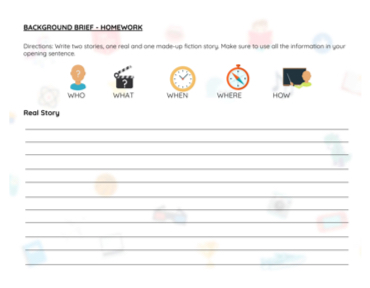 Background Brief Story Prompt:
Use the Background Brief Story Prompt as a visual support to help students write a short narrative or tell a story.
The Background Brief is all of the key information necessary for a listener to understand your story. As seen in the visual, we list out the who, what, when, where, and how.
The story can be a simple story about the student's day, weekend, or favorite item. If using in a group setting, each member can share a story and then take turns asking questions to find out more information about the story.
Download Visual Tool as PDF
(Right click and select "Open Link in New Tab")
Access the full packet on the Social Learning Platform:
NOTE:
Content may only be available to Everyday Speech subscribers.
Not a subscriber yet? View all our free samples.