Everyday Speech Skills
Everyday Speech Concepts
Everyday Speech Visual Tools
Use the tabs to see all of our
Skills, Concepts & Visual Tools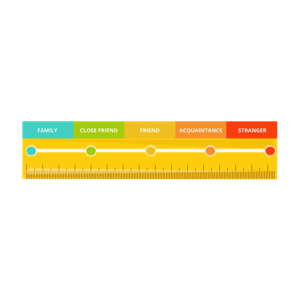 Relationship Ruler
The Relationship Ruler helps us understand the different relationships we have with different people. Depending on how long we've known them, there are actions we should or should not do. The Relationship Ruler can help us figure out how to act around different levels of people.
The Relationship Ruler presents five levels of relationships we commonly have:
Family - We spend the most amount of time with our family. We share more about our lives and can physically touch or hug them.
Close friends - These are the friends we've known the longest. We hang out and talk with them outside of school many times a week.
Friends - These are the people we've known for a while because it takes time to build friendships. We talk and hang out with these people outside of school.
Acquaintances - These are people we know a little. We might be in the same class and have had a couple of conversations with them, but we don't talk a lot.
Strangers - These are people we don't know at all. It's important to be safe around strangers. We only talk to them if someone you know introduces you.
Download concept image
(Right click and select "Open Link in New Tab")
Find teaching materials featuring this concept:
NOTE:
Some content may only be available to Everyday Speech subscribers.
Not a subscriber yet? View our free samples.