New in Text to Speech for iOS 8 – the Alex Voice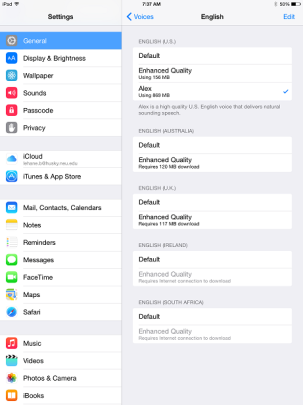 If you are one of the many people sick of Siri's voice, you will be happy to know that a much higher quality voice is now available with Apple's newest operating system, iOS 8. The "Alex" voice is a welcome change for people who use the accessibility features of VoiceOver or Speak Selection to have the iPad read out loud. The only caveat is this new voice only downloads onto newer devices, so you need an iPhone 5S or higher and the iPad Air or iPad Mini with Retina Display or newer.
How to Download the Alex Voice
To download the Alex Voice you must be running the latest software update of iOS 8, so update your iPad if you haven't done so already. Also be aware that the Alex voice is a large file (869Mb) so you need at least 870 Mb of space available. Your iPad will let you know if you don't have enough space, in which case you could move some things into the cloud to make some room or delete pictures or apps you don't use.
How To Select the Alex Voice for VoiceOver
VoiceOver is a feature that reads your iPad's screen. This is helpful for people who are blind or have low vision, as well as people with reading impairments such as dyslexia. You can adjust the pitch and how fast the voice reads in settings.
Go to Settings > General > Accessibility > VoiceOver > Speech.
If you're using English on your device, choose Default Dialect > English (U.S.) > Alex.
Now, wait for Alex to download and install. If you're connected to Wi-Fi, the download will begin. When the download is complete, your device will automatically install Alex. Now you're ready to start using Alex!
How to Select the Alex Voice for Speak Screen and Speak Selection
Speak Selection and Speak Screen are basically the same feature as VoiceOver, but they allow you to pick and choose what you want read. VoiceOver will read everything and takes a long time to navigate the screen. Speak Selection will speak a word or paragraph that you've selected. To use simply highlight what you want read and press "speak".
Speak Screen will read the entire content of the page you are on. To use- swipe down with two fingers and a pop up will appear at the top of the screen. The pop up has controls for speed, pause, and to stop reading.
To Download:
Settings > General > Accessibility > Speech > Voices and select Alex.
Again, wait for the voice to download and install.
You can also turn on Speak Screen through Siri by saying "speak the screen." This is a nice shortcut so you don't have to go into settings or swipe the screen.
Enjoy using the highest quality speaking voice Apple has developed so far! Let us know if you enjoy using Alex. Sign up for our mailing list here to stay updated with our latest therapy tips, app announcements, and blog posts.  Don't forget to follow us on Twitter, Pinterest, and like us on Facebook!