New in Assistive Technology- The iAdapter Amplifying Case & AAC
UPDATE: We've released an eBook – "The Ultimate Guide to the iPad for Speech Pathology and Special Education". It has all the tips and tricks you need to become an iPad master. Best of all, it's FREE. Grab your copy here.  
Disclaimer: I haven't been compensated in any way for this blog post. It's just a piece of equipment I happen to love!
Because of the overwhelming amount of assistive technology and new advancements coming out all the time, it's important to stay informed. I feel like I learn about a new piece of assistive technology every day. That's one thing I love so much about my field- we share our favorite products with each other. A while back, another speech therapist told me about the iAdapter Case from AMDi, which is an iPad case that amplifies sound. It has now become one of my go-to recommendations for students.
Many of my students are nonverbal and communicate in a variety of ways. One of them is using an app on the iPad that speaks messages aloud. These apps are a form of Alternative and Augmentative Communication, or AAC for short. AAC can be anything that supports speech such as pictures, gestures, or electronic devices like iPads. People use AAC apps to speak for them because they don't have the ability to speak or they can speak a little but need more support to be understood. The apps all look different but most are set up with pages that have buttons that speak out loud when selected. Most are customizable as well. I can set up pages for my students that have all of their favorite things on them.
Because these students use the iPad as their voice, we wanted to make sure that everyone can hear it. Enter the iAdapter Case. The iPad on its own doesn't get very loud, especially with competing background noise. As an added benefit, the iAdapter case keeps the iPad extra protected because it's very durable. I love this case because it was specially designed for people with special needs.  There are different versions to fit every iPad, including iPad generations 1, 2, 3, and 4 as well as the mini and iPad Air. Prices range from $198 for the mini and iPad Air cases to $265 for the generation 2-4 iPads.
Features of the iAdapter Case:
Sound output even when the iAdapter battery runs low
Protection in a durable case
Access to camera
An adjustable stand
Portability with strap or handle
Sliding cover to "hide" the home button
Able to be mounted on wheelchairs or standers
People who could use the iAdapter:
There are so many uses for technology like the iAdapter Case. As mentioned before, people use AAC apps for tons of different reasons. Some examples of adults that could use this case to amplify their iPad's voice output are people who lose ability speak due to Amyotrophic lateral sclerosis (ALS), Parkinson's, or other degenerative diseases. People who undergo strokes sometimes lose the ability to talk for a period of time. These apps offer a way to communicate and get their needs across to others. Children may use voice output due to neurological diseases such as Autism Spectrum Disorders, Down syndrome, William's syndrome, or a number of developmental delays.
Examples of AAC Apps
Here's a list of popular AAC apps. I'm not endorsing one over another, just putting them here so you can learn more about them if you want!
TouchChat  – $149.99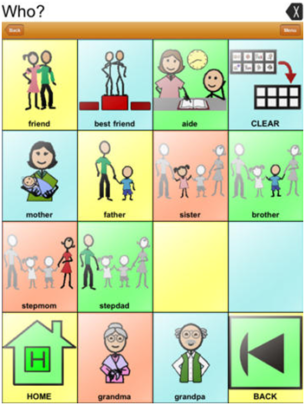 Proloquo2Go  – $219.99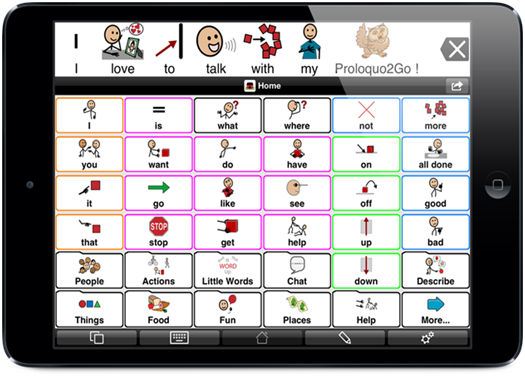 TapSpeak Choice – $169.99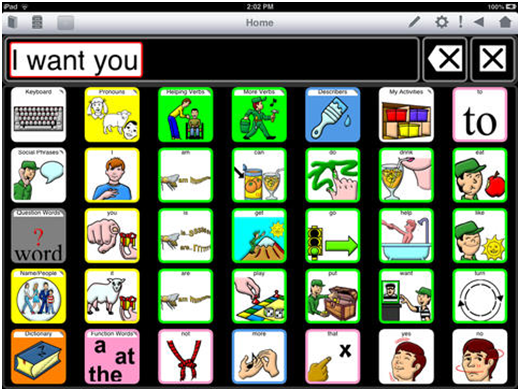 That's it for now. If you have any experience with AAC or iAdapter cases, let us know! Sign up for our mailing list here to stay updated with our latest therapy tips, app announcements, and blog posts. Don't forget to follow us on Twitter, Pinterest, and like us on Facebook!