Meet Daniel & App Updates
Note: All pictures and quotes in this post were reprinted with permission.
Hey everyone, Let's be Social! has been out for about 10 days now, and we're really excited about our progress.  We've had some positive reviews published (you can check those out here and here), we've met our expectations in terms of downloads, and we're already hard at work on the next version of the app.  If you've downloaded the app and have some feedback about things you'd like to see, drop us a line and let us know.  We take user feedback very seriously, so your comments will have a major impact on the next version of the product. If you send us an email, I promise you'll hear back.
One other place you can leave feedback is our review page on the app store (click on the ratings & reviews tab). Leaving a review will help other people find us – not only do people trust apps with more ratings, but Apple actually makes apps with ratings appear higher in search.
Anyway – the real reason for this blog is to pass along some awesome feedback we got from a mother in Massachusetts. She downloaded Let's be Social! and started using it her son Daniel, who has autism.  She passed along some thoughts on the app and shared some pictures of Daniel using it.  Here's what she had to say:
What a great app! You did such a great job making it user friendly! Especially for parents to make those social stories! Love that you made it easy to add photos and really personalize for each child! The question aspect is great too!  We can really tell if they are comprehending! I'm recommending this app to my son's school teacher as well! This app is so functional across home and school settings! Love the positive reinforcement when you complete a lesson! You can see in Daniel's reaction at the end of the social story! He was proud!!! Thanks for making a difference for these kids who struggle with communication!
Her feedback is incredibly inspiring for us – it reminds us why we started this company.  We put a ton of time into the design of the app, so it's great to see that some of our features – like the positive reinforcement at the end of a lesson – are having a real impact.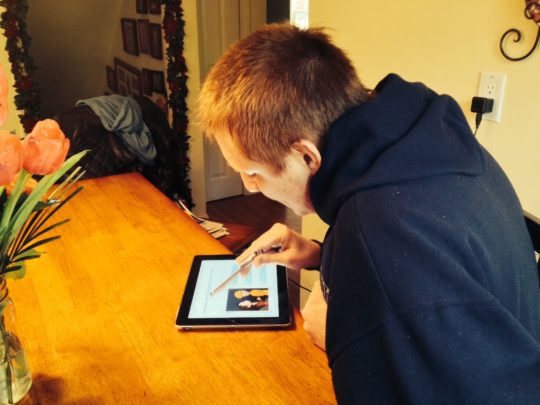 Hopefully we can reach many more people like Daniel! Thanks to Daniel's family for passing along their thoughts and pictures. One additional note – if there are specific situations that your child/clients are struggling with, let us know. We're currently creating more content for the next version of the app, so your scenario could pop up as a new lesson!