Let's be Social: Transitioning at School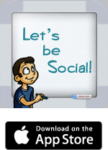 This blog post is part of a multi-part series on the lessons that come standard in our app, Let's be Social. Each post breaks down why we included this particular story, with commentary from Brittany Lehane, CCC-SLP, as well as a short overview of our lesson.
With 40 lessons standard and premium video lessons, Let's be Social has become a go-to app iPad app for Speech Pathologists, Special Education Teachers, Behavioral Professionals, and Parents to use with those learning social skills, including those who have autism. To learn more about Let's be Social and hear why it's been called a "dream come true", check it out here.
Why Transitioning at School?
Students who have disabilities may have difficulty transitioning to new routines or places. Changes during the day can really throw off my students and may lead to major meltdowns. This is a challenge for kids on the spectrum, who tend to have a weakness in this area. As a special educator, we spend a lot of time planning how to build a solid routine for our students and how to support them if that routine is changed. These supports may include making schedules for your students and letting them know ahead of time when a change is coming. For my younger students this looks like a visual (picture) schedule; for my high school age students a written reminder prepares them for a change. Our lesson examines what happens when a student must make an unwelcome change. We break down the feelings it causes and demonstrate the right and wrong behaviors. This practice will help our students become flexible thinkers who can adapt to the changes that come their way.
Our Lesson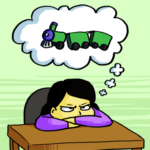 Lisa loves playing with trains during free time. In today's free time, the class is going to paint instead. Lisa is angry that trains aren't a choice today. Instead of crying on the floor, we learn that Lisa should tell the teacher she is upset. It will help Lisa feel better if she looks at the schedule of free time. Lisa will get to play with trains on Thursday! She feels better now. To finish up, we learn that even if you don't get exactly what you want, it's important to stay calm and not get upset.
Note: The information above is provided as a resource only, and in no way replaces the services performed by an ASHA-certified Speech Language Pathologist.